History in a Pecan Shell

Of the eight or so Lakeviews in Texas, most of them are in the Panhandle. The one in Hall County actually occupied two sites.

Lakeview # 1 sprang up near the geographic center of Hall County in early 1890. Its prime location and the fact that it had essential businesses gave the townfolk hope that it would become the county seat. But Lakeview lost the vote and the disheartened citizens sold their houses and moved on. Even the post office was moved - not once but several times. It eventually found a home in 1902 on land belonging to storekeeper David H. Davenport. Three years later Davenport purchased land just north of his farm that had desirable water - perfect for town building. Moving his store and post office in June 11, 1908, Davenport platted Lakeview #2.

The town's first school opened in 1908 followed by a bank two years later. The Altus, Roswell and El Paso Railroad built a roadbed through town, but financing fell through and the rails were never laid. But despite this serious setback, Lakeview grew. The town suffered back-to-back fires in 1918 and 1919.

Lakeview was on a roll in the late 1920s and with a population over 1,000, the town's horizons seemed limitless. But a third fire hit downtown Lakeview just as the Great Depression was getting started. The Lakeview bank was forced to merge with the First National Bank of Memphis in the early 1950s - when the population had already shrunk to 244. It declined further, reaching just over 200 in 1990 and remaining at 202 for the 2000 TxDoT map of Hall County.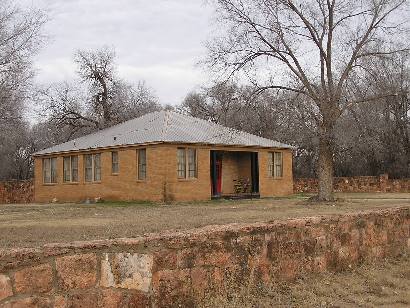 School at Lakeview
Photographer's Note:
This building is probably the oldest school building still standing in Lakeview; it stands next to the site of the old high school. Looks like a WPA building to me although I never did find a marker. It's being used as a community center and is nicely kept up. The main, new campus is across the highway and has been abandoned; apparently the Lakeview ISD combined with Memphis in 2000. - Stephen Taylor
More Texas Schoolhouses
Lakeview, TX - home of my grandparents & father
Photographer's note:
"I remember the little town intact, before the bulldozers came." - Nancy Cecil, May 12, 2012
"Grandfather's old general store in the middle of the block."
Photo courtesy Nancy Cecil, 2011
"Lakeview's old Davenport bank was being restored"
Photo courtesy Nancy Cecil, 2011
More Texas Banks
"The most imposing building in Lakeview"
Photo courtesy Wes Reeves, October 2006
Lakeview Barbershop
Photographer's note:
"The elements have claimed nearly all of this barber shop, but like the wreck of the Titanic, porcelain and stainless steel fixtures look almost new. My grandfather Don Wright was a gin manager in Lakeview in the 1930s and no doubt spent time in this barber shop." - Wes Reeves
Barbershop Interior
Photos courtesy Wes Reeves, October 2006
Closeup of sink in abandoned barbershop in Lakeview
Photos courtesy Wes Reeves, October 2006
"View through car window, old gas station, now has tables in front"
Photo courtesy Nancy Cecil, 2011
More Texas Gas Stations
Lakeview, Texas Forum
Subject: Lakeview Native Son
The Olympic high hurdler Jack Davis was born in Lakeview. He was my first cousin and died recently. I flew to his Celebration of Life last week in San Diego, ironically the day before the Olympics. There is an interesting obituary in the Los Angeles Times; if interested you can google and type Jack Davis in Search. - Nancy Cecil, Granbury, August 03, 2012


Texas Escapes, in its purpose to preserve historic, endangered and vanishing Texas, asks that anyone wishing to share their local history, stories, or historic/vintage photos, please contact us.

More Texas Towns | Texas Ghost Towns | Texas | Texas Hotels
Custom Search
Book Hotel Here - Expedia Affiliate Network