History in a Pecan Shell

Winchell came into being around 1900 under the name of Brown Town or Broadtown, named after local storekeeper E. J. Broad.

The change to Winchell occurred around 1903 with the arrival of the Fort Worth and Rio Grande Railway. B. L. Winchell was the president of the railroad. A depot and other businesses soon opened near the rails and by 1914 the town had a cotton gin and a population of 300.

The town experienced a devastating fire in the mid-1920 and never rebuilt. The schools consolidated with other districts in the 1930s and 40s.

From 1940 to the 1960s, the town reported a population of 90 which has since fallen to an estimated 10.
Visits to Winchell:
Luther Lindsey (in the white hat) in front of his store in 1920
Photo courtesy John Lindsey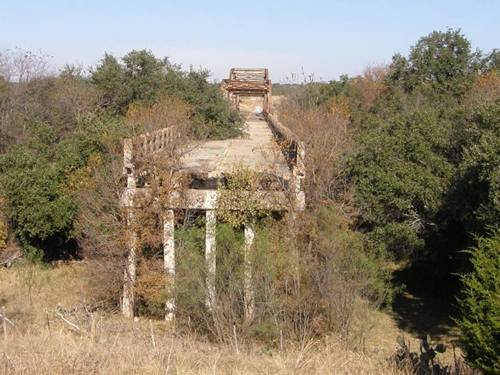 Winchell, Texas Forum
Subject: Winchell's Old Bridge on the Colorado
My grandmother Anna Shackelford and her husband Guy currently reside in Winchell. There is a long dirt road from Winchell that leads to her house by a small canyon near the Colorado river. There is another dirt road that leads from her house out into the woods. On several visits I walked down this road and came upon an old bridge foundation that at one time was a bridge for Winchell school kids, but is now just two large stone structures on both sides of the river. There is also what appears to be the foundation of a home or a store below the one of the stone piers. It is a very quiet and undisturbed place. I've always wondered about that bridge, what happened to it and if anybody has any memories of it? - Lance Carthen, January 31, 2007


Subject: Winchell Old Photo
I have a photo of one of my multi-great uncles (Luther Lindsey) in front of his store in 1920. I was hoping to try to find more info on him. Last I heard he was/is buried in Brownwood. He's the one in the white hat. Just another one of those mysteries of "what ever happened to..." - John Lindsey, June 04, 2005