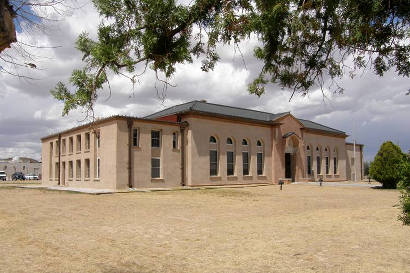 The restored Hudspeth County Courthouse
Photo courtesy Barclay Gibson, 2009
Hudspeth County Courthouse
County Seat - Sierra Blanca, Texas
Date - 1919
Architect - Fuetell and Hardie
Style - Mediterranean

The courthouse is built of adobe and has walls 18 inches thick. It is the only adobe courthouse in Texas and is listed on the National Register of Historic Places.
Hudspeth County Courthouse as it appeared in 1939
Photo courtesy TXDoT
Hudspeth County Courthouse under restoration in 2003
Photo courtesy Barclay Gibson
Hudspeth County Courthouse as it appeared in 1919
Photo courtesy THC
Photo courtesy Jason Penney, 12-01
Hudspeth County Towns & Ghost Towns Include:

Hudspeth County Seat - Sierra Blanca

Texas Escapes, in its purpose to preserve historic, endangered and vanishing Texas, asks that anyone wishing to share their local history, stories, and vintage/historic photos of their courthouse/town/subject, please contact us.
Custom Search
Save on Hotels - Expedia Affiliate Network