Samuel Doak McMahan moved his family from Tennessee and settled in the municipality of San Augustine about eleven miles south of the nascent town in 1831. Other family members, including William Friend McMahan, established homesteads in Newton County. All the McMahan's made contributions to the Anglicization of East Texas, but Samuel's experience was exemplary: he affixed the family name to the first organized Protestant and Methodist congregation in Texas.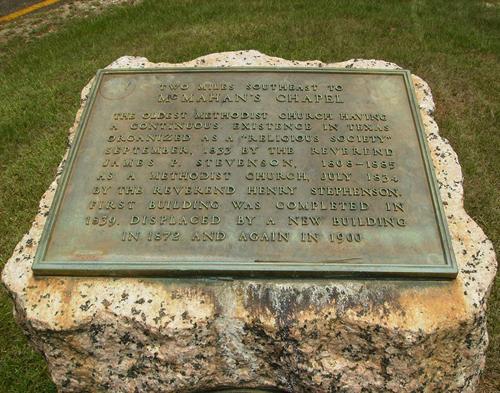 Here is how it happened. The Rev. James P. Stevenson, a representative of the Mississippi Conference of the Methodist Church, was posted to the Louisiana Circuit in 1832. Stevenson headquartered near the Sabine River just a few miles from McMahan's farm. In 1833, Stevenson accepted an invitation to cross the river into Texas to preach to settlers who wanted to hear the "old time religion." These services were proscribed by Mexican law, which established Roman Catholicism as the official religion of Mexico. Assured of protection from authorities, Stevenson held a two-day meeting in a home in Milam, a small community near the Sabine River. McMahan attended the services, liked what he heard, and asked Stevenson to hold additional services in his home. Stevenson did so and returned several times during the year to a religious field anxious for his ministry.

In September, the group organized a "religious society," euphony for a church, to skirt Mexican legal prohibition of formal Protestant worship. Actually, this was a good-will gesture. There is little evidence of government attempts to interfere with Texas settler's worship practices or to supply them with Catholic churches or priests east of San Antonio. The "society" had 48 members when it was organized, and McMahan served as "class leader." The Rev. Henry Stephenson, Stevenson's successor in the Louisiana Circuit, reorganized the society in McMahan's home, which became known as McMahan's Chapel.

Protestant religious activity increased in Texas after the successful Texas Revolution. In 1838, the Mississippi Conference created the Texas Mission District and assigned the Rev. Littleton Fowler to lead it. Fowler lived near McMahan's Chapel and took special interest in its development. In 1839 he helped build a log structure for the church, which was the first of three wooden predecessors of the small brick chapel erected in 1956. Fowler, McMahan, and other pioneers of Methodism are buried in the church cemetery.

In 1970, the general conference of the Methodist Church named McMahan's Chapel as one of three official United Methodist landmarks. It serves yet as a house of worship, and may be visited for that purpose by driving east from San Augustine on Highway 21 and turning onto Spur 35.
McMahan Chapel by Bob Bowman
The news that San Augustine businessman Jack Maund has contributed $100,000 for a museum and events center at McMahan Chapel Methodist Church has focused new attention on one of East Texas' most historic churches...
All Things Historical July 21-27, 2002 column
A syndicated column in over 70 East Texas newspapers

Forum:
My husband and I are caretakers for McMahan Chapel near San Augustine and as a writer myself, I was delighted to find Mr. McDonald's article on the chapel included in your website. There are a couple of inaccuracies, though, that I feel need to be corrected.

The first is that Rev. Littleton Fowler is not buried in the cemetery at McMahan Chapel as the article states. Instead, he was buried at own request under the pulpit inside the chapel and has remained there since his death despite the construction of several buildings that replaced the original. The second error is on the brick building which was actually dedicated in 1949, not 1959 as the article states.

I enjoyed Mr. McDonald's stories very much and just wanted to take a moment to correct these errors. Sincerely, Patti Murr, August 28, 2004

Related Article:

Man with a Method by Archie P. McDonald
"Long before winning fame and martyrdom at the Alamo, William Barret Travis wrote to tell Methodist leaders in the United States how badly Texas needed their attention. Samuel Doak McMahon held the first meeting of Methodists in Texas in his home, located ten or so miles east of San Augustine, in 1832, but the arrival of Littleton Fowler in 1837 was the first authorized Methodist activity there..."


Related Topics: Texas Churches | East Texas | Texas Towns | Texas
Custom Search