---
---
---
---
San Augustine, Texas Topics:
History
---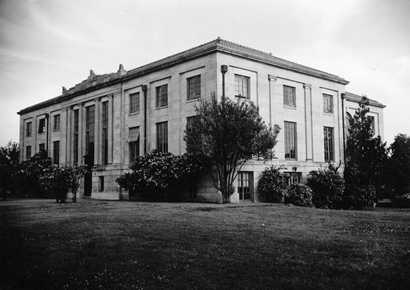 History in a Pecan Shell

San Augustine's history predates the revolution. As early as the 1540s, European visitors were getting lost in the pines around San Augustine. In 1691 the Old San Antonio Road (as it was later called) was cut by Domingo Teran de los Rios. The Mission Nuestra Senora de los Dolores de los Ais was established in 1717, has been restored and is one of San Augustine's major attractions today. You might find "Mission Dolores" easier to remember.

As Anglo migration to Texas increased in the early 1800s, San Augustine was the site of the customhouse and a stopover for everyone entering Texas. It soon became the most civilized place around, and its early history shows it to be the birthplace of several colleges and the first churches (in Texas) of several denominations were opened here. Sam Houston was a frequent visitor and Texas' first governor now sits (as a statue) on the courthouse lawn of his former residence. His name was James Pinckney Henderson, but you already knew that.

See San Augustine by Archie P. McDonald
---
A 20th Century History

The Feud
San Augustine was also the scene of one of the more interesting feuds in Texas history. It's roots were in the 1890s, but things didn't really get going until the Spring of 1900 when Lycurgus (Curg) Border stirred things up in the Wall-Broocks-Border feud. Curg, who was a handsome man and a good dancer until he was partially crippled in a shooting, shot Sheriff George W. Wall, who died a few days later. Curg Border was elected sheriff in 1902 and served until he was suspended in 1904 by the district judge. W.S. (Sneed) Noble took over the sheriff's duties and found himself caught up in the feud. Sheriff Noble shot and killed Curg Border in May of 1904. (This information is from Texas County Sheriffs by Sammy Tise).

(A detailed account of this feud can be found in C.F. Eckhardt's Tales of Badmen, Bad Women and Bad Places: Four centuries of Texas Outlawry)

Excitement flared up again in San Augustine just before Christmas in 1934. Four men were shot in a hardware store and not too much was done about it. Texas Ranger Leo Bishop was sent in and he found the town to be under the control of a lawless element. After few months, Leo and partner Dan Hines had banished the main villain and made the rest behave. The people of San Augustine presented both Rangers with fancy pistols as token of their appreciation in 1935.

(This incident is covered in detail and fine story-telling form under the chapter Leo Bishop and the San Augustine Crime Wave in Just one riot: Texas Rangers in the 20th Century by Ben Proctor)
---
San Augustine Landmarks / Attractions:
Here's the place that saw it all, the San Augustine County Jail.
Photo courtesy Barclay Gibson, December 2010
Historic Antioch Church of Christ. Established in 1836.
Photo courtesy Christie Mecham, September 2015
Sundial on Texas Bank & Trust
Photo courtesy Barclay Gibson, December 2010
Columbus-Cartwright House
Recorded Texas Historic Landmark
Craft St. off SH 21
Photo courtesy Barclay Gibson, December 2010
San Augustine has one of the rare traffic stop button
Photo courtesy Barclay Gibson, December 2010
---
San Augustine Historical Marker
On US 96 and Hwy 21
Photo courtesy Barclay Gibson, December 2010
Historical Marker:
San Augustine
An early eastern gate to Texas, in area claimed in 1600s by both France and Spain. To back her claim, Spain in 1691 chartered from Mexico past this site El Camino Real (The King's Highway) and established nearby in 1717 Mission Dolores de los Aies.

Inhabited by Ayish Indians and Spaniards until the late 1790s, when Richard Sims came and was soon followed by John Quinalty, Edmond Quirk and families of Broocks, Cullens, Cartwrights, Hortons, Hustons, Prathers and others. By 1824 the settlement had a water mill to grind corn meal; in 1826, a cotton gin.

In the 1827 Battle of Ayish Bayou, Col. Prather and 69 men put down Fredonian uprising over land titles.

The town was laid off in 1833 by Thomas McFarland. In 1836 it sent as delegates to sign Declaration of Independence S. W. Blount and E. O. LeGrand; fielded 3 companies to fight in the war for independence. Its Republic of Texas statesmen included vice-president K. L. Anderson; J. A. Greer, Secretary of the Treasury; Wm. Holman, congressman; J. Pinckney Henderson, minister to England and France, and later the first governor of the state. Oran M. Roberts was 16th governor.

Home of the 1965 United States Ambassador to Australia Edward Clark. Many historic sites are marked.
(1966)
---
San Augustine Chronicles
(From "All Things Historical" Column)
McMahan Chapel by Bob Bowman
The news that San Augustine businessman Jack Maund has contributed $100,000 for a museum and events center at McMahan Chapel Methodist Church has focused new attention on one of East Texas' most historic churches...
McMahan's Chapel by Archie P. McDonald
Mr. Ambassador by Archie P. McDonald
Edward Aubrey Clark of San Augustine
Man with a Method by Archie P. McDonald
"Long before winning fame and martyrdom at the Alamo, William Barret Travis wrote to tell Methodist leaders in the United States how badly Texas needed their attention. Samuel Doak McMahon held the first meeting of Methodists in Texas in his home, located ten or so miles east of San Augustine, in 1832, but the arrival of Littleton Fowler in 1837 was the first authorized Methodist activity there..."
Ben Ramsey by Bob Bowman
Scrolling Through History by Bob Bowman
The search system -- which has brought unbridled joy to genealogists and historians -- is believed to be the most comprehensive county archive system in Texas.
A Soldier's Story by Bob Bowman
Milton Irish's letter, printed in the Lincoln Patriot at Waldoboro, Maine, on February 10,1837, has become a classic story of a simple soldier involved in the momentous events that gave birth to Texas the year before. In a few months, Milton -- an ancestor of Jack Irish of Lufkin -- found himself involved in the Siege of Bexar, the battle that preceded the fall of the Alamo, and barely escaped with his life during the massacre of Texas prisoners at Goliad.
Outlaw with two faces by Bob Bowman
In July of 1888, Rupert P. Wright, dressed in rags and one eye blinded by his own hand, pleaded for mercy on a charge of bigamy before an Arkansas judge. To those who knew Wright, his appearance and demeanor were far removed from the days when he was a prominent newspaper editor, attorney, and aspiring legislator in Little Rock. But they would soon learn that he was also an escaped murderer, forger, arsonist and jail breaker named Pete Loggins from East Texas.
Webster's Buck by by Bob Bowman
The San Augustine Tribune, publisher Webster Hays and hist buck.
Drug Store Centennial by Bob Bowman
A fountain drink known as "The Grapefruit Highball."
The San Augustine Drug Store will in May (2004) celebrate a hundred years of doing business at the same location in downtown San Augustine.
The Church Lights by Bob Bowman
Each time I visit Christ Church Episcopal in San Augustine, I am reminded of Murphey's story and the electric light chandeliers former U.S. ambassador Ed Clark bought and installed in the church in 1991 to honor his wife Anne Metcalfe Clark.
The First Governor of Texas by Archie P. McDonald
The Circuit Rider by Bob Bowman
Beneath the pulpit of an East Texas country church, far from the saddle-sloped mountains of his beloved Kentucky, Littleton Fowler lies at rest... Fowler was a circuit rider, missionary, marksman, chaplain of the Texas Senate and a brilliant pulpiteer who rode and walked thousands of miles between the Sabine River and San Antonio to found many of Texas' Methodist churches.

Nuestra Senora de los Dolores de los Ais Mission by Archie P. McDonald

San Augustine Texas, Forum


Shooting of Rangers in San Augustine County
In July 1918, a squad of Texas Rangers was sent to San Augustine County to round up deserters from the army. Two Rangers went to the farm house of Samuel Williams to recover his son Sam Williams and Daniel Evans. In a gun fight early in the morning, Ranger White was killed and the other Ranger wounded. A massive manhunt pursued... more - John D Carrell, Mesquite, Texas, October 25, 2006
---
Nearby Destinations


Sam Rayburn Lake
Angelina National Forest - 11 miles south on Texas 147 to entrance.

Sabine National Forest - 5 miles east on FM 353 to entrance.
San Augustine Hotels > Book Hotel Here


San Augustine Tourist Information
San Augustine County Chamber of Commerce 611 West Columbia St. San Augustine, Texas 75972 Phone: 936-275-3610 Website: www.sanaugustinetx.com
---
---
Three-term San Augustine
Sheriff Nathan Tindall is
frequently mentioned in

THE TEXAS SHERIFF:
LORD OF THE COUNTY LINE
by Thad Sitton
University of Oklahoma Press, Norman 2000
---
Texas Escapes, in its purpose to preserve historic, endangered and vanishing Texas, asks that anyone wishing to share their local history and vintage/historic photos, please contact us.
---
---
---
---