Artisans in Disguise
or
The University of Texas Gate Crash of 2010
Two Texas Stone Carvers
By Brewster Hudspeth
TE photos
Perhaps you've once stood outside a Texas courthouse admiring the intricate carving of a stone face while awaiting your divorce case to be heard. Perhaps you've wondered if anyone else has noticed how many county courthouses have been misspelled Covrthovse.*

*Thank you for recognizing the attempt at humor and not sending a correction.

If you've ever marveled at a cluster of marble grapes or stood transfixed at the folds of limestone robes, you'll be pleased to know that the stone carver's art is alive and well in Austin, Texas.

"Serendipity is a vine" someone once said (me). I went on to say that "if allowed to flourish, its far-reaching tendrils will eventually bear sweet fruit."

On a sweltering August morning when the vine of serendipity was in severe wilt, a spur-of-the-moment trip to a Federal bureaucracy in Austin went suspiciously well. Disappointed at not receiving even a single roll of red tape, I was determined to push my luck.

I looked at my notebook for things the editor wanted me to do in Austin and found an entry from 2003. I held the faded page up to the light and under a residue of condiments long-ago consumed, I made out a faint penciled entry: "Ph-tog—ph Lit-lefield h-use Austin. Urgent!"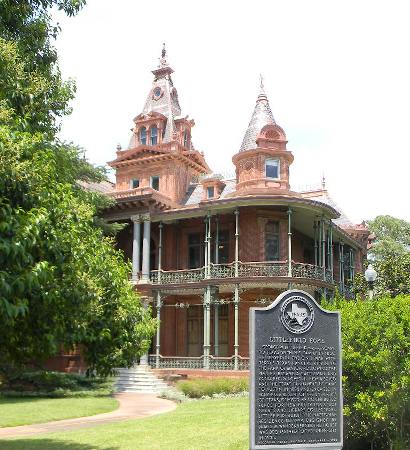 Bequeathed to the University of Texas by Confederate soldier, cattle baron, banker, university regent and philanthropist George W. Littlefield, this home should be on anyone's short list of Texas' most beautiful residences.
Since I wasn't far from the University of Texas. I decided that today was the day to retire that once-urgent request. I entered the university grounds near the Littlefield House and pulled up to a kiosk to ask where I might park. The attendant, reluctant to lose his air-conditioning, stuck a hand out the door and pointed to a woman walking briskly toward a car on the very corner I needed. "She's just leaving," his disembodied voice announced. But her brisk walk was just to the passenger-side door of her car to find her purse to feed the parking meter.

This caused me to drive further down the block, past a sidewalk construction site I would've missed had I gotten that corner space. I fed the meter and walked back to photograph the house. Midway down the sidewalk a portable screen concealed two workmen who were hunkered-down, looking at a scarred and flaking cube of Pecos sandstone.
"A screen concealed two "workmen" who were looking at a scarred and flaking cube of Pecos sandstone."
The stone was shimmed in place by a metal bar sandwiched between two pieces of modern insulation. The "workmen" were attired in compulsory hard hats and safety vests and you can bet the ranch that their footwear was steel-toed.

They seemed bemused by the puzzle that confronted them – namely, balancing this post and matching its size with its mate – which sat squat, smug and recently-sand-blasted just a gate's breadth away.

Their friendly demeanor of the two begged a conversation. I placed my hand on the rough/ smooth surface of the round finial of the finished stone – and as the words "nice job" were forming on my tongue, they anticipated my complement and said in unison: "That's not our work."
Although their disguise was clever, it was soon revealed that these workmen impostors were stone artisans. Both are members-in-good-standing of the Stone Carvers Guild. I know. Who knew?

UT knows. The damaged sidewalk gateway of this august property called for professional expertise and the people at UT knew exactly whom to call.

Although both men have their own separate companies, it was obvious that they were enjoying working on the same project.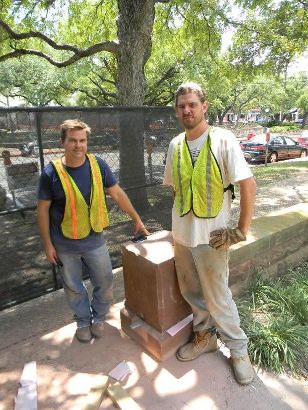 Any attempt at describing the exquisite carvings of these two would be woefully inadequate, so links to their respective websites follow their names.

Stuart Simpson (left) is the owner of Austin Stone Carving.
His website is www.AustinStoneCarving.com

Matthew Johnson (left) is the owner of the Bartlett Stone Company.
His site is www.BartlettStone.com

The men are old enough to have sizable portfolios and young enough to be taking care of Texas' detailed stonework for years to come. From the whimsical to the practical, they are the best artisans this side of Florence, Texas – where they both studied under the same mentor.

Matthew has been known to pause between Florence and Texas when mentioning his apprenticeship – but with an "unspoken wink."

Long after this particular job is completed and Matthew and Stuart have been recognized far and wide for their art, most people passing the Littlefield House will forget the gate had ever been damaged. But Matthew will remember and Stuart will remember – and TE will remember and now, you, the reader will remember.

September 23, 2010
© John Troesser
"Hanieo" In Progress
Photo Courtesy Bettie Cross
"This is a picture of me working on a sculpture in our shop. The stone is West Texas Cream. The piece was eventually completed at an annual carving festival held at the Vineyard at Florence which is (as the name suggests) a vineyard in Florence, Texas." - Matthew Johnson
"Hanieo is the name of a Japanese friend who was visiting at the time. Her name means "Resting Place". The material is West Texas Cream, a limestone quarried in Garden City, Texas." - Matthew Johnson
Photo Courtesy Terry Raven
"This is a picture of a piece titled, "Mercury". The material is Acrylic and Oil on Lueders Limestone. Lueders Limestone is quarried in Lueders, Texas."

This piece represents a new direction for me as an artist that I am very excited about. It is part of a series titled, "Mercury, Nike, and a boat". - Matthew Johnson

The website address of the Stone Carver's Guild is: http://stonecarversguild.com
Texas Escapes, in its purpose to preserve historic, endangered and vanishing Texas, asks that anyone wishing to share their local history, stories, and vintage/historic photos, please contact us.
Custom Search