"The motivation here is really to do something that has some aesthetic value. I'm not particularly concerned about having a house. I don't build this to own a home. I build it because I like doing sculpture." - Robert Bruno, 2007.

One of the true tests for qualifying an artist's effort is to judge whether the work produced is of the sort that simultaneously astounds, inspires, surprises and delights. Those few artists whose works do affect us in these ways are certainly in possession of a level of ability that the rest of us can only marvel at and envy. Some would call this talent genius. Others might witness the hand of the Lord in the creation of these individuals because their work illustrates a level of creativity that surely could spring from no other earthly source. And Texas, thankfully, is the proud possessor of several of just this type of artist. One of whom, the sculptor and architect Robert Bruno, has bequeathed to us his Steel House, sometimes referred to as "The Metal Mansion", just outside of Lubbock in Ransom Canyon.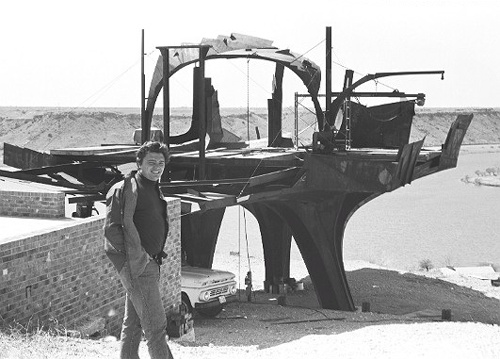 Robert Bruno in 1974
Photo courtesy www.robertbruno.com
Bruno, born in Los Angeles in 1945 and making his way to Texas Tech University after some time in Mexico began design work on the Steel House in 1973. The actual construction was begun a year later and it was then that I first heard of the project. In fact, the whole Lubbock community heard of it then. The frame (if we can rightly call it that) was begun as three giant, arachnid-like legs. You might well imagine the anxiety this caused a very puritan society that was already feeling the sting of both the Vietnam chaos and the loss of Nixon- an icon of the prevailing, local sentiments. Portrayed in the local press as "weird", "out of place" or just "ugly", Bruno's house became quickly a fixture as extraordinary as a freak show at the circus. However most residents, even an eleven-year-old with a tacit taste for the bizarre, missed the point at first. As Bruno explained, he was only expanding on one of his existing concepts. "The evolution of this house is that I'd actually been working on other sculptures prior to this and one which was quite large was large enough to stand under. And it seemed like a pleasant environment and if I could capture that same feel on a little bit larger scale then I could live in it."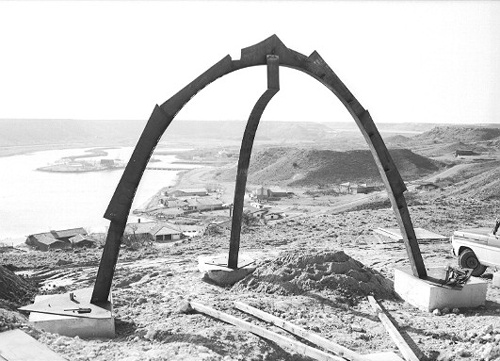 Steel House Framework
Photo courtesy www.robertbruno.com
The exterior of the sculpture (a term used to describe the house by Bruno as well as several other artists and critics) has been typified as a "metal pig" or, more usually, as a "spaceship". While the structure does appear as though it may have landed on its location the natural materials, comprised wholly of º" metal sheeting, used in construction suggest that it just as easily could have grown from the soil underneath. (If green is "Green" then surely brown can be "Green" too?) By contrast nowadays, the sculpture does appear somewhat misplaced. But when considering that in 1974 that stretch of space in Ransom Canyon was largely undeveloped, the structure would have seemed much more attuned to its surrounding environment. Nevertheless, even today the exterior exhibits a fluidity of design that allows a spectator to view large portions of the area from a single vantage point. Almost every angle is smoothed and while the constancy of color denies a single focal point these same components compel the eye to sweep from one end or side to the next, to keep moving until the entirety of the faÁade is a whole mental image. This is, evidently, what Bruno envisioned back in the initial stages, "One of the things that makes this a somewhat different structure than most is that it doesn't have a skeleton with the skin draped over it. This skin is the structure. So, the outside of this house is what holds it all up."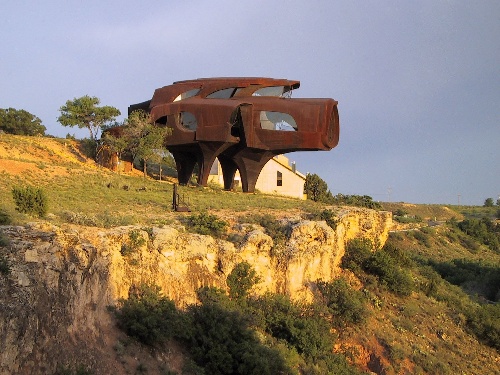 Steel House Interior
Photo courtesy www.robertbruno.com
The interior of Steel House is majestic. Indeed, I have frequently had the impression that Bruno's vision began inside out, as it were. Originally planned as a single story home the project grew as time passed and inspiration matured into action. Today the sculpture is a three-story magnus opus with some of the "legs" standing in for the first floor, e.g. one of the legs houses the home's library, another the home's elevator and a third slated as a wine cellar. The space atop the supports (even Bruno himself was unsure about the total interior square footage; he thought it somewhere between 2000-2700 square feet) is separated by a spiral staircase and Gothic columns that, again, are smoothed and rounded to lessen the severity of both the material and texture. A portion of the window's glass is colored in order to accentuate and augment the natural elements within. At times futuristic (think 'Logan's Run') and at others medieval (Notre Dame), the interior of the sculpture brings to mind the expanse and geometry of Duchamp's Nude Descending a Staircase, No. 2. Coupling disparate styles however, was the juxtaposition that Bruno was concerned with from the beginning, "I'm interested in giving it a somewhat organic quality-somewhere between animal and machine." And so the materials used to create the structure's interior range from metal to wood to glass to plaster, much of it scrap from other building projects around the west Texas area. These materials were intentionally left raw and even somewhat primitive. When fused and welded together though they combine to create an aesthetic that forces the viewer to re-establish perceptions of space and prejudice. In fact, the house is meant, with its mostly natural materials and slightly Spartan exterior, to emulate and mirror the rustic environment that it initially inhabited.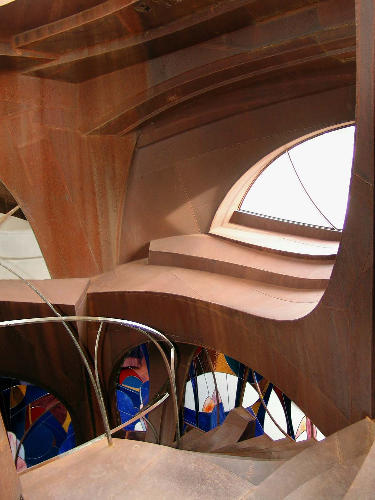 Metal, wood, glass and plaster
Photo courtesy www.robertbruno.com
Working in much the same manner as Jackson Pollock, Bruno's Steel House was, it seems, forever changing and growing; never completed but always near some terminus. The construction, the actual work, was the main component of the endeavor. Again, planned as a one-floor house, the work was constantly being updated and modified until it reached its current three-story status. Bruno, by interviews in various newspapers and magazines, was frequently quoted as saying that the house would be ready for occupancy "in about a year". Like Gaudi's Sagrada Familia, the famous Spanish cathedral that, after 128 years, is still under construction, the Steel House was still witnessing additions and modifications in 2008 when Bruno passed away after 35 years of overseeing construction of this mammoth sculpture. It seems though that he might have had this trajectory in the back of his mind the entire time. As he stated, "In this build as you go, one of the things that happens also is that you find yourself coming back and cutting out something that you did 6-7 years before and it looked right at the time but in the context of something new that you're doing, a modification would look even better."

Perhaps this confluence of philosophies, the architect and the sculpture, is what keeps Steel House moving forward, keeps it alive. As an artist Bruno seemed content, appeared satisfied more with the building of the house than its actual completion. In a 2008 interview in the Financial Times Bruno explained his thoughts on the process of architectural design and in the process illuminated an underlying artistic principle, "You could say that architectural models are the real buildings, and that most of what is built today is just a dishonest replica of that. In my house, the structure is the shell; there's no pretense, no deception." And then again, in another interview, when Bruno was trying to describe the function of the separate rooms, the space was still undetermined, "This room could be a bedroom but I haven't really decided what it's going to be."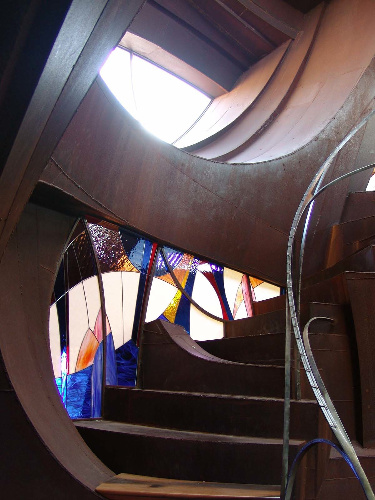 Spiral Staircase
Photo courtesy www.robertbruno.com
Robert Bruno could not have chosen a more exacting location for his Steel House. An artist full of the philosophies of opposites and juxtapositions he planted his sculpture in exactly that part of the state where it would attract the most attention. Akin to those Cadillacs near Amarillo with their trunks sinking into the ground, Bruno's house is sure to always grab notice. And while it is very disquieting to think that he has passed on I believe he would be very glad to consider that everyone who sees his work for the first time will immediately find need to readjust reality. It will be in this manner that the sculpture continues to expand and grow.

Special thanks to Ben Britt for video diary of Steel House.
Website: www.robertbruno.com


© Byron Browne
Notes From Over Here May 5, 2010 Column

See Ransom Canyon | Lubbock |
Book Hotel Here: Lubbock Hotels
Related Topics:
Texas | Texas Architecture | TE Online Magazine | Columns |
Texas Escapes, in its purpose to preserve historic, endangered and vanishing Texas, asks that anyone wishing to share their local history, stories, and vintage/historic photos, please contact us.
Custom Search