A closed gas station in Belcherville
Photo courtesy Barclay Gibson, February 2007
History in a Pecan Shell

Originally named Belcher, after local ranchers John and Alex Belcher, it became known as Belcherville in the late 1850s even though there was no populace other than the cowboys on the Belcher Ranch. In 1887, the Gainesville, Henrietta and Western Railroad was expanding its routes and the Belchers platted a townsite on 27,000 acres they had purchased for the purpose. The town was granted a post office the same year the roadroad arrived. In 1890, nearby Red River Station was hit by a tornado, and the population abandoned that place in favor of Belcherville. The town incorporated three years later. There were just over 300 people living in Belcherville in 1900, supported by thirty businesses.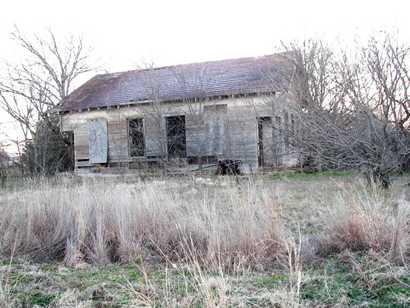 The town's incorporation was voided in a 1908 vote. Already in decline, Belcherville suffered two fires just after WWI, causing the population to move to greener pastures in Nocona, just as the residents of Red River Station had moved to Belcherville. The town still had 192 people in the mid-1920s, but declined to less than 100 a decade later. The post office closed in the 30s and by the mid 1950s it had reached a rock-bottom population of 31 people.

By the late 1960s, it had somehow risen to 90, only to decline again to the current 34 - the same estimate used for the last 40 years.

The Belcherville cemetery is just west of town north of Hwy 82.
From Old West fires often impossible to tame by Delbert Trew

...A strange but true story with fire as the villain happened in the Texas ghost town of Belcherville. Established in 1886, the town lived until 1954. Being an "end-of-track" town, it prospered until the railroad extended on through to other towns. This started the decline of the settlement and fostered dissension between two factions living on opposite sides of the track.

According to legend, one side of town burned and was believed to be started by the opposite side residents. The residents of the burned-out side retaliated by setting fire to the remaining side. These two incidents jinxed the town for newcomers and the burned areas were never rebuilt with Belcherville becoming a ghost town.

Could this be termed "the town that committed suicide?"

© Delbert Trew
"It's All Trew" November 12, 2007 Column

Related Topics: Texas Towns | Texas Ghost Towns | Texas | Online Magazine |