Nocona School Class Photo
"Far right in the back row is my grandfather, Grover C Weiss, as a school boy." - JL Weiss Truitt
History in a Pecan Shell
William Broaddus and D. C. Jordan started a ranch near present-day Nocona in the 1870s. When the Gainesville, Henrietta and Western Railroad was building across Montague County, Jordan offered land for a right-of-way. The town was to be named after Jordan (Jordanville) but instead it was named after the Comanche Chief Peta Nocona. A post office was opened under that name in 1887 and bootmaker Herman Justin moved his operations here.

Nocona's first newspaper was published two years later and the town received a bank in 1890. The town entered the 20th Century with a population of 900.

In 1925, the sons of the late Herman Justin moved their factory to Fort Worth, but their sister remained - opening a boot company of her own.

The population increased to 2,000 Noconans by 1930, falling during the Great Depression, but growing steadily thereafter until it reached 3,300 in the 1960s.

Nocona, Texas Today:
Church of The Brethren 3 miles NW of Nocona
Photo courtesy Barclay Gibson, February 2007
"My Great Grandparents, Lorenzo D and Nancy Jane Smith (Castilaw) and their 3 daughters.
From left to right: Rosa E Smith (Hodges)
Lorenzo Dow Smith (Castilaw was his family name...he lived under the alias 'Smith'...his family are from Mississippi.
Serentha Smith (Holt)
Nancy Jane Dean Smith (Choctaw)
On Nancy's lap is my grandmother, Pearl Lillian Smith (Weiss) who was probably 1 or 2 years old.
The photo was taken around 1894/5 in Nocona, Texas."
- JL Weiss Truitt, July 29, 2011
"My Grandparents, Grover C and Pearl Lillian Smith Weiss. Myself, Janice Lee Weiss Truitt, and my brother, George W Weiss are sitting on their laps. Taken in the early 1950's at our ranch house in Bill, Wyoming."
- JL Weiss Truitt, July 29, 2011
Addison in Nocona
I was going through my grandfather's pictures that came from his mother's old trunk. His mother was Margaret Evaline Painter Ellis. One photograph that caught my attention was sent to her either in the late 1800's or early 1900's.

At the bottom was the name "Addison, Fort Sills" Unfortunately, this photograph was not labelled. Researching further I found that this was photo taken by the famous photographer, George A. Addison who had a studio in the Nocona area during the time period that this photo was probably taken.

My greatgrandmother had a brother and sister who settled in the area around Nocona, Texas. so I'm fairly certain these are either York or Painter descendants.

The photographer George Anthony Addison was a well-known photographer in the area around Fort Sill, Oklahoma Territory and took photos displaying the life during this time. - Alfred Ellis, Fort Payne, Alabama, May 28, 2007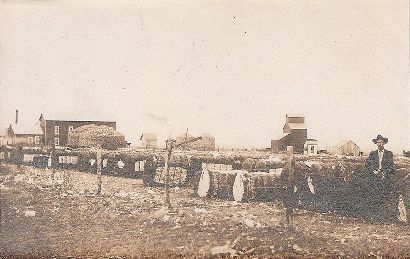 Nocona, Texas Forum:
I remember my grandmother, Pearl, talking about Cynthia Ann Parker, the wife of Peta Nocona; and Enid Justin, who started the Nocona boot company....each Nocona boot customer had a pattern of his/her foot on file at the Nocona boot company so that custom made boots could be done without the customer travelling to Nocona...My dad and grampa had boots made that way for years when I was a kid in Wyoming... - JL Weiss Truitt, July 31, 2011
Texas Escapes, in its purpose to preserve historic, endangered and vanishing Texas, asks that anyone wishing to share their local history and vintage/historic photos, please contact us.
Custom Search