CELESTE, TEXAS
Hunt County, Central Texas North

33° 17' 37" N, 96° 11' 44" W (33.293611, -96.195556)

Hwy 69 and FM 816
10 Miles NW of Greenville, the county seat
20 Miles S of Bonham
About 70 Miles NE of Dallas
ZIP code 75423
Area code 903
Population: 907 Est. (2019)
814 (2010) 817 (2000) 733 (1990)

Celeste, Texas Area Hotels › Greenville Hotels
Celeste street scene
Photo courtesy Mike Price, October 2007
History in a Pecan Shell
In 1886 the Gulf, Colorado and Santa Fe Railway platted the townsite which was just three miles north of Kingston. This was economic revenge against Kingston for refusing to grant the railroad "incentives" to make their town a stop on the line.

The name is said to be after the wife of a Santa Fe official.
A post office opened in 1886, and the new town drew population and businesses from Kingston. By the mid-1890s, the population was 600, and Celeste had all essential businesses including a weekly newspaper. The town incorporated in 1900 when it had a population of 671. By 1917 it had grown to 850 residents and increased to 1,022 by 1922.

Due to the devestation of the cotton crop by the boll weevil in the 1920s and the Great Depression, Celeste's population was 803 in the early 1930s where it remained for years. The population was 745 in the 1970s. From 733 in 1990, it has increased to 817 for the 2000 Census.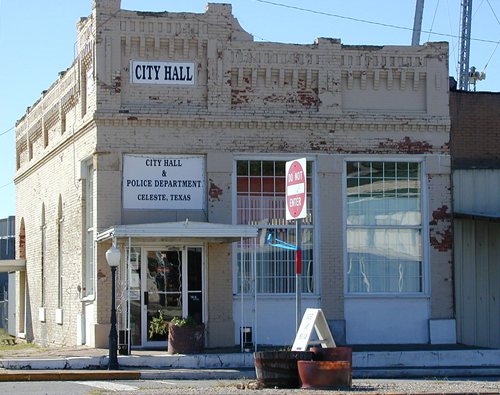 Celeste city hall and police department
Photo courtesy Mike Price, October 2007
First Baptist Church
Photo courtesy Mike Price, October 2007
Historical Marker: S. Third and Cockrell St., Celeste
First Baptist Church of Celeste
Organized by four charter members, the First Baptist Church of Celeste was begun in 1887, the same year the town was platted by the Santa Fe Railroad. The Rev. Jim Price was called as first pastor. A two-story building erected on South Third Street served both the church and the local Masonic Lodge. The building was destroyed by fire in 1907, and a larger structure was completed in 1910 on the same site. A new sanctuary was built on the corner of Third and Cockrell streets in 1970. This church has been part of Celeste history for over a century.
1988
Texas Escapes, in its purpose to preserve historic, endangered and vanishing Texas, asks that anyone wishing to share their local history, stories, landmarks and recent or vintage photos, please contact us.