Bonham was named after Alamo defender James Butler Bonham. Bonham rode through Mexican lines twice, requesting aid from Gonzales and escorting the Gonzales volunteers back to the Alamo. The County is named after James Fannin, who was massacred with his men at Goliad.
Bonham Attractions
The Fannin County Courthouse
Built by famed courthouse architect W.C. Dodson.

Fannin County Museum: One Main Street 903-583-8042.
Hours: September to March Tuesday through Saturday noon to 4.
April to August Tuesday through Saturday 10 to 4.
Formerly on the third floor of the courthouse, the Museum now resides in the restored Texas and Pacific Railroad Depot.

Fort Inglish Park: A replica of the original settlement in 1837 that eventually became Bonham. W. Sam Rayburn Drive. 903-583-3441.
Sam Rayburn Library: Just west of Downtown Bonham, the library contains memorabilia and furnishings from the Washington office of one of the country's most powerful and influential Speakers of the House. Second only to his personal friend LBJ, Rayburn was the most visible Texan in US Government, even surpassing Uvalde's "Cactus Jack" Gardner who was FDR's Vice President.
Monday through Friday 10 - 5, Saturday 1 - 5, Sunday 2 - 5.
903-583-2455

The Sam Rayburn House Museum:This is Mr. Rayburn's residence built in 1916. Original furnishings and personal items.
8 - 5 Tuesday-Friday and 9 - 5 on Sat. Closed Sunday and Monday
(903) 583-5558
http://www.thc.state.tx.us.html
Sam Rayburn's Home
by Bob Bowman
"A visit to Bonham should start with a stop at the Sam Rayburn House Museum on U.S. Highway 82 on the west side of town."... more

Bonham State Park
Less than 4 miles from Bonham

Coffee Mill Lake: Off FM 409. 15 miles northeast of Bonham. Caddo National Grassland Wildlife Management Area
Clyde W. Cosper Texas State Veterans Home
1300 Seven Oaks Road, Bonham, Texas.

Book Hotel Here > Bonham Hotels | More Hotels
Bonham Chronicles:
James Bonham - The Alamo's brave messenger by Murray Montgomery
Lt. Clyde "Sparky" Cosper by John Troesser
B-17 Pilot, 367th Bomber Group, Hometown: Dodd City, Texas
"A B-17 crashed near the town of Princes Risborough, Buckinghamshire, England on November 13, 1943. The only thing that prevented the plane from landing directly on the town, was the Herculean effort of the man at the controls....."

Savoy Male and Female College by Mike Cox ("Texas Tales")
When graduates of the long-extinct Savoy Male and Female College gathered for their first reunion in 1938, several of the men did a little reminescing about the Indians fights they had back in the day...
Flagpole by Mike Cox ("Texas Tales")
This story is about a mystery involving the flag staff that once stood at Camp Howze, a sprawling World War II Army base at Gainesville...
Tom Bean by John Troesser
The Hardin Brothers by Bob Bowman ("All Things Historical")
More than 110 years have passed since East Texas outlaw John Wesley Hardin was shot down in an El Paso saloon, but he remains one of the most intriguing badmen in history... John Wesley, named for the founder of Methodism, was born at Bonham in Fannin County on May 26, 1853...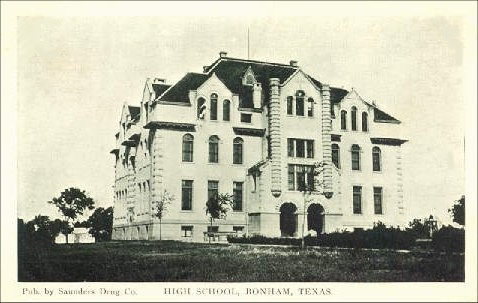 High School, Bonham, Texas
Postcard courtesy www.rootsweb.com/ %7Etxpstcrd/
High School, Bonham, Texas
Postcard courtesy www.rootsweb.com/ %7Etxpstcrd/
More Texas Schoolhouses
Bonham Texas postcard, circa 1907
Nearby Destinations
Book Hotel Here > Bonham Hotels | More Hotels

Bonham Tourist Information

Bonham Area Chamber of Commerce
110 East First Street. 903-583-4811.
www.bonhamchamber.com
Texas Escapes, in its purpose to preserve historic, endangered and vanishing Texas, asks that anyone wishing to share their local history and vintage/historic photos, please contact us.
Custom Search