Milford Main Street circa 1908
Click on image to enlarge
Old photo courtesy Bill Parrish
History in a Pecan Shell
Cheap land prices (.50 an acre) in the 1850s attracted an influx of settlers who migrated from Cherokee County.

In 1854, a townsite was set up on high ground and named Milford.

William R. Hudson, the town's developer had read about a thriving town in Massachusetts and named the community after it. Hudson's combined residence and general store, was built; Hudson built a store/residence/post office.

In 1892 Milford's population reached 800. It was home to a community-financed school called the Milford Academy and the other with the seemingly fictitious name of Mollie Poe's Private Lone Star Institute.

A two-story building serving multiple community functions was burned during the Civil War. The Dallas and Waco Railway reached Milford when they had a population of just 150 and in the 20th Century, Milford became a stop on the Waco - Dallas Interurban (1926).

In 1902 a Presbyterian College for women opened although it closed in 1929 - an early victim to the Great Depression.

The population peaked at 1,200 in 1929 - falling to just 717 in 1931. It reached rock-bottom in 1968 when only 490 Milfordians called the town home.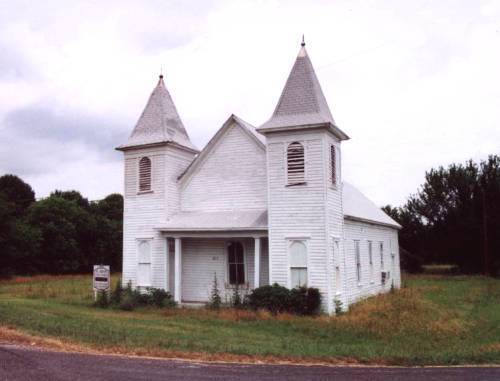 St. James A.M.E. Church
Recorded Texas Historic Landmark
Photo courtesy Barclay Gibson, 2005
MILFORD, TEXAS PHOTO GALLERY
Historical marker
Saint James A.M.E. Church
This church was organized by the Rev. Joshua Goins, Sr., in 1883. Services began in the home of Pleasant Zollicoffer and moved to the Odd Fellows' Hall before this church structure was erected in 1907. This building exhibits exceptional craftsmanship and incorporates Gothic Revival style details such as twin towers and gabled facade and Romanesque style rounded windows. Saint James is Milford's oldest African - American church and building.
Recorded Texas Historic Landmark
1992
Main Street Milford, Texas
Circa 1908
Hanging out at the icehouse, Milford, Texas
Note Dr. Pepper sign
Photo courtesy of Bill Parrish, Meadow Vista, CA.
Pedestrians, sidewalk, and dentist office
Photo courtesy of Bill Parrish, Meadow Vista, CA.
Corner drug store and church
Photo courtesy of Bill Parrish, Meadow Vista, CA.
Texas Escapes, in its purpose to preserve historic, endangered and vanishing Texas, asks that anyone wishing to share their local history, stories, landmarks and recent or vintage photos, please contact us.