History in a Pecan Shell
Originally known as Parker's Voting Box, both the old and new name come from local resident Minter Parker. The town dates from the early 1880s. A post office appeared in 1882 which lasted into the 1920s.

The 1884 population grew from a mere 30 residents – but slowly. From 1914 until the mid 1950s, Minter reported 100 residents.

The town seems to have hit its economic high-water mark in the 1930s when they had five businesses as well as a hotel. Today the population is given as 78 – the same as the 1990 census.. Minter's residences are scattered although the cemetery and church remain in place.



Remembering the citizens of Minter
Minter is included in our coverage at the suggestion of a Mr. Simmons who wrote: "My mom's family use to live near [Minter].  There are still a few people alive that could give a good description including the small newspaper in Deport, Texas. 

I hope you can take the time and research this town that used to be.  Highland Cemetery of Hwy 271 is the resting place of many of the former residents of this town.  The Chappell, Whitney, Ball, Finch, and Morgan families just to name a few. They were farmers, blacksmiths, store clerks, and really good folks.  I just hate the thought of these people being lost and how their contributions to this great nation (esp WWII) might be forgotten.  My grandparents had eight children and were a part of this area from around 1885 when grandpa was born. I am just a grandson. - M. Simmons, January 7, 2009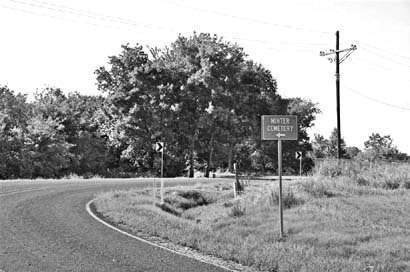 Texas Escapes, in its purpose to preserve historic, endangered and vanishing Texas, asks that anyone wishing to share their local history, stories, landmarks and recent or vintage photos, please contact us.