"This is about all that remains of old downtown Richardson."
- Mike Price, January 2008
History in a Pecan Shell

Settled as part of the Peters colony in the late 1840s, a town named Breckinridge had formed. In 1873 when the arriving Houston and Texas Central Railroad bypassed the town, a new community formed, drawing off Breckinridge's population.

The railroad has a right-of-way and townsite donated and the following year a post office was granted.

Richardson is thought to be named after E. H. Richardson, a railroad contractor. The 1904 population of Richardson was only 147 residents although it it had grown to 400 by the mid 1920s.

Richardson was included on the route of the Sherman to Dallas Interurban. The town was struck by a tornado in 1924 which destroyed residences but spared the commercial district. The "Red Brick Road" was paved in 1924 – later to be called Greenville Avenue. Richardson and Addison High schools were consolidated in the late 1920s. From a population of 720 in the early 1940s, it had increased to 1,288 by the early 1950s. But ten years later it had swelled to 16,810.

When Highway 75 was built in the 1950s, Richardson became a Dallas suburb. The city expanded by annexation and encouraging industry to relocate there. The population in 1970 had climbed to 43,900 and has since grown to the current 91,802.
Richardson, Texas Today
Photos courtesy Mike Price, January 1008
Photographer's Note:
Subject: Old downtown Richardson.
"There has been a lot of rebuilding in that area such that most everything old has been torn down, or so remodeled that it's impossible to recognize the old buildings. Richardson for some reason has attracted large blocks of ethnic groups over the years. First it was the Vietnamese. Now it appears to be a mixture of Arabic and Indians. The signs in that part of town are frequently a mixture of English and the native language of the [newly arrived] group."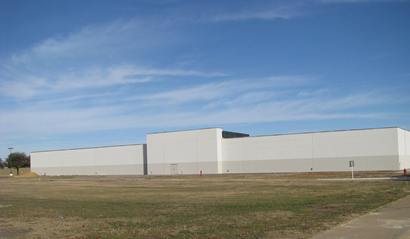 "This building, before it was turned into this featureless nightmare, was a red brick building with the raised area being the main entrance to what was the first building in what is now know as Telecom Corridor in Richardson. (I'm ignoring the Texas Instrument complex to the south as I believe it is in the Dallas city limits.) The building was the first building of Collins Radio Company in Richardson. The complex that grew around it comprised about 10-12 buildings that at one time employed around 7000 people. They eventually set up a second complex about 3-4 miles northeast of this one. I'm reasonably sure these were two initial anchors of the electronics businesses in Richardson.

I threw this in as I spent 35 years working in those complexes. Twelve years in this building, before they destroyed its personality." - Mike Price, January 2008
Texas Escapes, in its purpose to preserve historic, endangered and vanishing Texas, asks that anyone wishing to share their local history and vintage/historic photos, please contact us.
Custom Search