History in Pecan Shell
According to the Handbook of Texas, the community was named after the creek and the creek was "probably derived from some cattle-driving mishap."

The town was granted a post office in 1883 which stayed open through 1901. It wasn't until 1933 when the community peaked with 62 residents (served by a single business).

After WWII, it had declined to thirty people and had only the school, church and one business. It hit rock bottom in the mid 1960s when ten residents were reported - the same number used for the 2000 census.
---
A Country Drive to Stampede
FM 116: In The Shadow of Fort Hood

by Clay Coppedge

Driving north from Copperas Cove to Gatesville on FM 116 you're never far from Fort Hood. ... Copperas Cove is ringed by five hills, a pattern drivers will see repeated on the way to Gatesville. A few miles out of town you come to FM 580, and if you just feel like it you can detour to the town of Topsey...

If, instead of heading to Topsey you get on 116 you will drive up on a green, bowl-shaped valley cut by scenic creeks. Nestled between the hills and creeks is the community of Pidcoke, named for the Pidcocke family, early English colonists to the area. It's not hard to see what drew the Pidcockes here. The creeks would have been as good a reason to settle here as anything. This is good ranch country; the best side of the grass is already topside.

A detour in Pidcoke to see the local cemetery is a good one, but follow the road past the cemetery to catch some fine glimpses of Bee House Creek and a couple of panoramas of the valley. Bee House was once the home of a communal house called Bee House Hall. Residents wanted to name the community Bee Hive but the post office decided it would be Bee House instead.....

Six miles southeast of Pidcoke used to be the community of Stampede, which had about 40 families living there in 1917. The town disappeared when Fort Hood was established in the early 1940s. Looking for it today, the only reminder might be the sound of artillery sounding like thunder off in the distance.... [Read full article]
---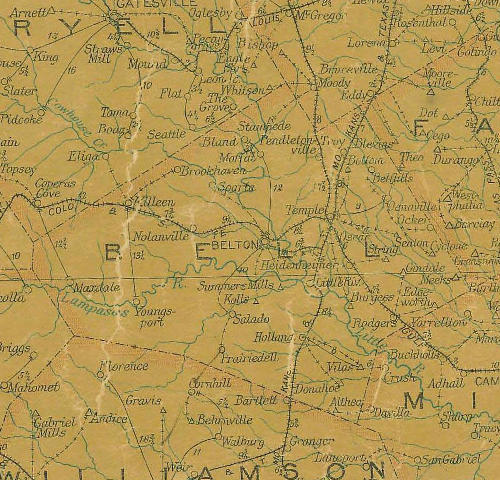 1907 Texas Post Map showing Stampede
(In northern Bell County near Coryell County line)
From Texas state map #2090
Courtesy Texas General Land Office
Texas Escapes, in its purpose to preserve historic, endangered and vanishing Texas, asks that anyone wishing to share their local history, stories, landmarks and recent or vintage photos, please contact us.