History in a Pecan Shell
The name is a corruption of Velasco, the name requested from the postal authorities. Rather than have the town resubmit the name (there was another Velasco in Texas) the postal authorities merely altered the spelling.

Mrs. O. C. Anderson opened the post office in 1903 and by 1905 a school with the name of Long Branch School opened – serving 66 students.

The town was bypassed by the railroads and never prospered. Its post office closed in 1907, but the school adopted the name Vasco in 1921.

The 1936 county highway map showed the community as a business, a church, and a cluster of dwellings at the junction of several dirt roads between Dry Creek and Lake Creek. The population at that time was 25.

In 1939 the school merged with three others to form the East Delta school district.

The population in 1952 was a reported 40 people. By 1963 the school had closed, leaving three businesses and a few scattered farms.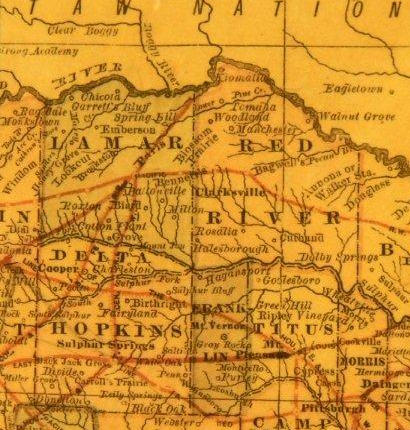 Texas Escapes, in its purpose to preserve historic, endangered and vanishing Texas, asks that anyone wishing to share their local history, stories, landmarks and recent or vintage photos, please contact us.