Originally named Lone Star, for some reason the name was changed in honor of Washington's estate. The county was named after Benjamin Cromwell Franklin, the first Judge in the Republic of Texas.
History
From Franklin County Courthouse Historical Marker
Mt. Vernon was established in 1849 on land donated by Stephen and Rebecca Keith, and a public square was surveyed in the 24-acre plat. When Franklin County was created in 1875, Mt. vernon was voted county seat, and a wooden building northeast of the square was used as the first courthouse.... more
Mount Vernon Attractions & Events include
The Franklin County Museum is at 111 South South Kaufman, next to the Chamber and in the former City Hall. Hours: Tuesday and Thursday 10:00 to 4:00. Saturday 10:00 to 12:00.

The Majors-Parchman Farmstead at the corner of Kaufman and Tolbert will give you an idea of a working farm circa 1883. Open Tuesday and Thursday 10 to 4. Phone: 903-537-4760.

The historic downtown district includes a gazebo and town square where one can shop and eat at places that has been in business since the turn of the century. The public library is located in a restored turn-of-the-century bank.

Events includes the Countryfest held the second Saturday in October.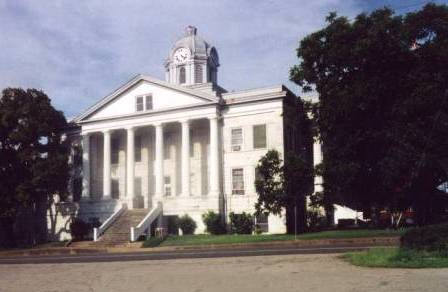 Former Franklin County jail, now the Old Jail Arts Center
Photo courtesy Barclay Gibson, July 2002
Mount Vernon Historic Church
Photo courtesy Lori Martin, Novembert 2005
The 1894 Mount Vernon Depot and Water Tower
Photo courtesy Lori Martin
Mount Vernon Recreation
Lake Cypress Springs - 10 miles south on FM115 and FM21, offers fishing, water sports, camping and golf.

The lake is surrounded by public parks: Dogwood Park, Walleye Park, Overlook Park, Mary King Park, and W. D. Guthrie Park. The Cypress Creek Country Club offers a 9-hole golf course and a restaurant.
Mount Vernon Hotels > Book Hotel Here

Mount Vernon Tourist Information
Franklin County Chamber of Commerce - 903-537-4365.
109 South Kaufman Street, Mount Vernon, TX 75457.
A historic homes driving tour is available at the chamber.
People:
Tallest Rebel by Mike Cox
The first time the Yankees soldiers saw Henry Clay Thruston charging toward them through the clouds of black powder smoke they must have rubbed their eyes in disbelief. This gray-clad Johnny Reb towered over the other fighting men like a pine tree growing next to a bush... more


Mt. Vernon, home of the tallest Civil War soldier (7'11", we have pictures!) His dogtrot style home is still standing and is currently under renovation - just received a state grant to turn it into a Visitor's Center. We have a wealth of refurbished Historic properties.
GREAT SITE!!! - T Wims 9/18/2000
Custom Search
Book Hotel Here - Expedia Affiliate Network