A note on the location from John J. Germann:
"Yowell is usually identified with Hunt County. [The post office] was born there and died there, and it spent more time there. The postmaster in Delta County in 1923 was the same as the postmaster previously in Hunt County, and he stayed postmaster until 1934; most likely he moved across the county line. After several additional postmasters in Delta County, a new one was appointed in 1943. That was the same year that it moved back to Hunt County."
History in a Pecan Shell
In the 1880s, one J.W. Yowell opened a store alongside the road leading from Pecan Gap to Commerce. Evidently the community that grew alongside the store adopted the name.

In 1900 the Yowell Methodist Episcopal Church South was established. Although the community was comprised of only fifteen people in 1915, it had the rudimental businesses, including a drugstore and a school.

The post office wasn't opened until the 1920s and by the middle of that decade, Yowell's population had risen to a respectable 150 residents.

By 1940 rhe population had declined to seventy. Three businesses were in operation and Yowell had two churches. After the war the two businesses closed. Schoolchildren attended classes in Cooper by 1970 and for the 1990 census the population was a mere fifteen people. That figure was used again in 2000.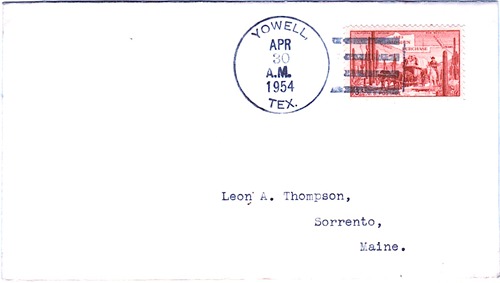 Delta County 1920s map showing Yowell on Hunt/Delta County line
Courtesy Texas General Land Office
Texas Escapes, in its purpose to preserve historic, endangered and vanishing Texas, asks that anyone wishing to share their local history and vintage/historic photos, please contact us.
Custom Search