COURTNEY, TEXAS
Grimes County, Central Texas South
Farm Road 2 – just W of Highway 6
About 8 Miles S of Navasota
About 12 Miles N of Hempstead
Population: Estimated at 55 for 1990 and 2000
Courtney, Texas
TE photo, March 2009
History in a Pecan Shell

Jared E. Groce, one of Stephen F. Austin's original colonists (closely tied to Hempstead's history) is said to have received the land on which Courtney now sits in exchange for a horse and a bolt of cloth. Courtney Ann Fulton Groce, J. E. Groce's daughter-in-law is the town's namesake. It is said to have been settled as early as 1820 but it wasn't until the arrival of the Houston and Texas Central Railroad in 1860 that it resembled a proper town. A post office opened that same year. With the construction of a freight siding and a passenger depot, Courtney soon became a shipping center for cotton.

The population in the 1880s was estimated to be 200 residents and by 1900 the community had three stores, several churches and a grist mill as well as two cotton gins. A two-story brick school was built in 1913.

In the middle of the Great Depression the population stood around 250 but the decline came about after WWII when it shrunk to a mere 50 residents.

Today Courtney is home to a unit of the Texas Department of Corrections. The older part of town has several old ruins, one of which is an old store. The 1913 school is still standing in a well-maintained field and an adjoining smaller white building appears to still be in use.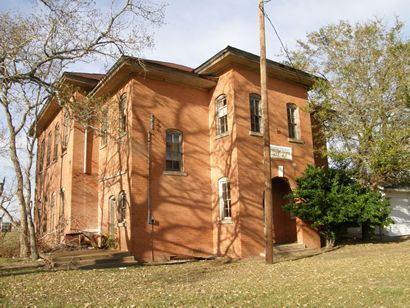 Old store in ruins
TE Photo, March 2009
Railroad crossing
TE Photo, March 2009