History in a Pecan Shell
Grassyville was a German agricultural community formed in the mid 1850s. The village became a center for German Methodist Church members and a parsonage was built here in 1858, although a church didnít appear until 1868.

A post office was granted in 1877, although it was in Lee County. In 1879 it reopened in Bastrop County, although the matter was far from ending. This post office was closed and reopened in Lee County, only to moved back to Bastrop in 1883.

Grassyville was prospering in the mid 1880s with a population of 75 residents served by a gristmill and cotton gin. Two churches were in operation as well as a school.

The community played host to conferences of the German Methodist Church in 1887 and 1893 and again in 1899.

The post office saga was resurrected when it was closed in 1887, reopened two years later and closed for good in 1906.

The population fell to a mere 10 citizens in 1933 but from 1939 through 1990 it was reportedly at 50.

Today it is remembered by Grassyville Road and the large, manicured cemetery.

Grassyville Cemetery Historical Marker >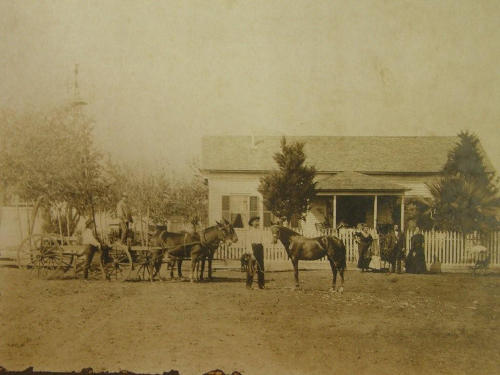 Grassyville Reinholdt Peschke Residence
Vintage photo courtesy Paige Historic Society & Museum
Direction to Grassyville Cemetery from Paige

According to Texas Historical Commission Atlas:
"Off US 290, south on FM 2104, 4.6 mi. to FM 2259, east .3 mi., then north on CR 184 .4 mi. to CR 149, east .5 mi. at end of CR 149"
Road to Grassyville Cemetery
TE photo, April 2010
Grassyville Cemetery sign and stile
TE photo, April 2010
Grassyville Cemetery view
TE photo, April 2010
Tombstone Portrait
TE photo, April 2010
Tombstone Portrait
TE photo, April 2010
Grassyville Cemetery Historical Marker
TE photo, April 2010
Historical Marker Text
Grassyville Cemetery
German immigrants settled the Grassyville community in the 1850s and organized a Methodist church. Many gravestones in this cemetery are lettered in German script. The two earliest burials, Auguste D. Hamff and Bertha Kunkel, are both dated 1871. Seven Confederate veterans who served in Creuzbaur's-Welhausen's battery during the Civil War (1861-1865) are buried in the 1.5-acre graveyard. Although the village has disappeared, the burial ground continues in use. There are 130 graves tended by Grassyville Cemetery Association, which was established in 1963.
Grassyville Inscribed On Tombstone
TE photo, April 2010
Courtesy Paige Historic Society & Museum
Courtesy Paige Historic Society & Museum