St. Mary's Catholic Church
TE photo, April 2010
History in a Pecan Shell
Editor's Note: Established in 1866, the church serves approximately 50 families in the vicinity. Our initial confusion of Bastrop County's Pin Oak with the Pin Oak Community in Fayette County caused us to consult Fayette County Historian Carolyn Heinsohn. She was able to provide the information below:

"Based on very limited available history, it seems that the Pin Oak community in Bastrop County was settled predominantly by Germans, who undoubtedly founded St. Mary's Catholic Church. From my previous research, most of the German Catholics in Texas came from the Westphalia province of western Germany, which included my Hoelscher-Buxkemper family, who eventually settled in southeastern Fayette County. There was a group from the Munsterland region of Westphalia, who came to the Cummins Creek Settlement (Frelsburg) in the 1840s. There was another group that went to Ohio and a group in 1854 that went to Kenosha County in Wisconsin, including my 3 X great uncle.


When looking at the cemetery index for Pin Oak, I noticed an Anton and Johanna Zurbourg. His name was spelled Zurborg on the 1890s tax records for Bastrop County. I had a 2 x great uncle, Josef Hoelscher, who married a Minnie Zurborg from Cincinatti, Ohio. I have no idea how they met, but most probably her family moved from Ohio to the general vicinity of Ellinger, where he lived. They were married at Live Oak Hill near Ellinger and later moved from the Ellinger area to Bastrop County. Perhaps Anton J. and Johanna Zurborg were Minnie's parents or relatives. There was some reason why my 2 X great aunt and uncle moved to Bastrop County when no other relatives were living there on his side of the family. One of their daughters married in Bastrop and stayed there, but the remainder of the family later moved to Westphalia, Texas between Lott and Temple, where his parents were living.

If there were any businesses in Pin Oak, they apparently are long gone. The church and cemetery are located at the intersection of FM 2104 and Circle Road. Smithville is six miles southwest, and Winchester is six miles southeast. Paige is eight miles north, Alum Creek is seven miles west, Serbin in Lee County is five miles east northeast. In 1895, there were 513 people in the area."
- Carolyn Heinsohn


Texas Escapes, in its purpose to preserve historic, endangered and vanishing Texas, asks that anyone wishing to share their local history and vintage/historic photos, please contact us.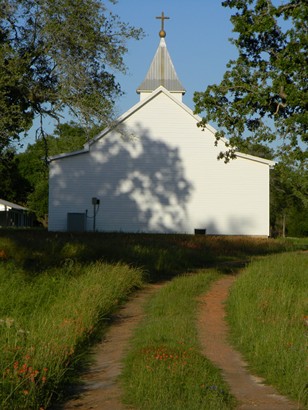 Custom Search