5 miles S of Mission
13 miles SW of McAllen

Photos courtesy Ken Rudine
The old chapel at La Lomita was repaired and furnished in 1928 "as a precious relic of the past and a Shrine to Our Lady of Guadalupe." A hurricane in 1933 caused damage which was repaired in 1939.

The chapel is also the site of frequent reported sightings of a ghost. Usually seen as a woman suspended in air while praying, she is believed to be the spirit of a nun.
Photographer's Note:
We arrived at the Chapel about 11am and spent most of an hour there. My wife Yvonne parked us near the restroom area. In anticipation, I turned on my camera as I walked about 30 yards to my first photo. Now facing the building about 40 feet away, I composed a frontal shot in the ground glass, I didnít like this angle but suddenly I noticed a figure in the doorway. I looked up, directly at my subject to see a pale object. Instinctively, I tripped the shutter.

A standard drawback to digital cameras, there is that split second time-lapse between pressing the shutter release and the exposure. I examined my frame and found nothing unusual. I began to doubt my eyes and felt whether I had seen the well publicized chapel entity or not, my photo could not prove it. That being accepted for now, I proceeded to make many more exposures inside and outside the 108 year old building.

Still lamenting over what I should say about my visit, I closely re-examined that first exposure which was now on my laptop. Low and behold, there was an image in the darkness of the doorway. This was the vindication I sought. My photo proved that I saw and photographed something. Less than 3 minutes later, I was inside the Chapel and alone. But what I saw in the doorway was a transparent ectoplasm I illustrated.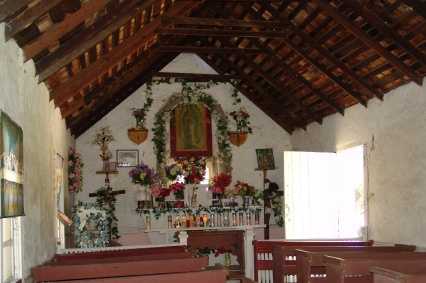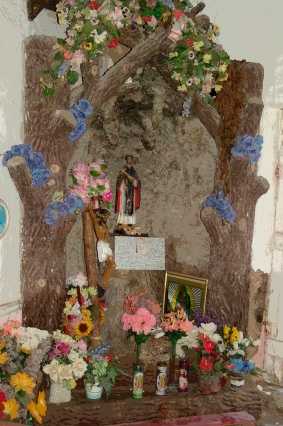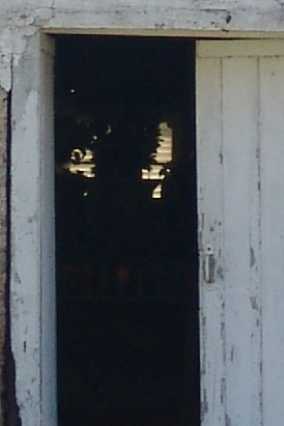 But this is not the entire story. The outside of the building is old, weathered and stained. The grounds of about ten acres are chain-link fenced and open only during daylight hours. Through the fence, during twilight it is possible to see these stains as figures, which seem to float in the air. Ė Ken Rudine, February 11, 2007

For more ghost sightings: see Forum: Haunted Chapel of La Lomita
La Lomita Chapel Historical Markers