The Old Stone Fort

by Archie P. McDonald, PhD
In the spring of 1779 a later-day Moses named Antonio Gil Y'Barbo led some displaced persons back to East Texas to found the community of Nacogdoches. They had formerly lived in western Louisiana and eastern Texas near Spanish missions, but a change in government policy had forced them to move to San Antonio in 1774.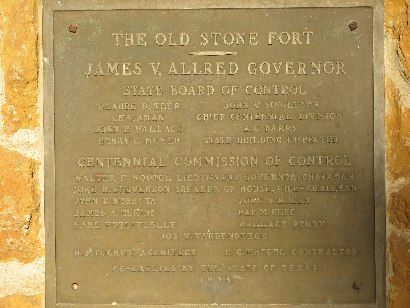 As soon as they arrived in San Antonio, these East Texas Spaniards petitioned for permission to return eastward. Their request granted, Y'Barbo led them to the banks of the Trinity River where they established the community of Bucareli. Four years of floods and trouble with the Comanche convinced them to move eastward, where they founded Nacogdoches.

Soon after leading his wanderers to the valley of LaNana and Banita Bayous, Y'Barbo erected a Stone House on the northeast corner of town square. It was private property, but because of Y'Barbo's civil and militia authority the Stone House took on a public nature it never lost. There he conducted private and government business, so it became the civic center of the community.

When Simon Herrera came to East Texas in 1806 to negotiate the Neutral Ground agreement with General James Wilkinson, he headquartered in Y'Barbo's Stone House. In 1813, the Army of the North led by Augustus Magee and Bernardo Gutierrez de Lara proclaimed Texas independent from Spain while occupying the house, and within its walls A. Mower set type for the Gaceta de Tejas, the first -- if short lived -- newspaper in Texas, before moving on to defeat in the southwest.

James Long led Americans across the Sabine River in 1819 in violation of the Adams-Onis Treaty, and again used the Stone House as the venue to declare Texas independent, once more unsuccessfully. The story was repeated by Haden Edwards and the Fredonians in the 1820s, again unsuccessfully.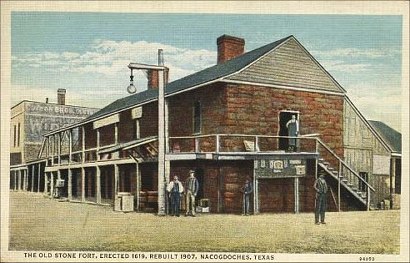 " The Old Stone Fort, Erected 1619, Rebuilt 1907, Nacogdoches, Texas"
Postcard courtesy www.rootsweb.com/%7Etxpstcrd/
Y'Barbo's Stone House hosted meetings of the Nacogdoches Committee of Public Safety and the selection of representatives to the conventions and the Consultation during the Texas Revolution and it witnessed the Battle of Nacogdoches in 1832. There mustered soldiers for service in the Civil War. Towards the end of the nineteenth century, the Stone House, by now known as the Stone Fort though it never served as such, fell on bad times. By then it sheltered a saloon and was consider quite unsavory. Still it was a shock to the community when the Perkins brothers razed the old rock house and erected a modern business building.
The Old Stone Fort today
Photo courtesy Dana Goolsby, November 2010
The Old Stone Fort Stonework
Photo courtesy Dana Goolsby, November 2010
The Cum Concilio Club, a local women's group, salvaged the remains of the Stone House and stored them on Washington Square. Later some were used in a building on the public school campus. In 1936, a replica of the Old Stone Fort was located on the campus of Stephen F. Austin State University, and visitors can drop by and get a good idea of what the first building in Nacogdoches looked like.


All Things Historical MAY 13-19, 2001 Columns
(Archie P. McDonald is Director of the East Texas Historical Association and author or editor of over 20 books on Texas)

See Nacogdoches, Texas | East Texas | Texas
Custom Search