LOCAL PERSONALITIES
People with brains, panache, or character. Sometimes all three.


PRIMADONNA'S BIRTHDAY

Story & photos by John Troesser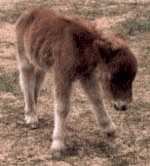 After discovering that the celebrated Carrousel in Brenham's Fireman's Park is undergoing restoration, we drove to the Monastery of Saint Claire, which is on highway 105 toward Navasota, a mere 5.7 miles from the intersection of FM 577 and 105.

Here the Sisters raise miniature horses to support their habits.

Traffic on highway 105 is fast. The only explanation is that people who have never seen Navasota are in a hurry to get there and after seeing it are in a hurry to get back. The Monastery Gate is parallel to the highway and is easy to miss.

Driving to the inner gate you'll pass perhaps 30 of the little equines, some grooming each other, some resembling the Royal Family and others doing assorted miniature horse things. We parked and found a small crowd gathered around what appeared to be an oversized (yet attractive) Chihuahua.

This was how we were introduced to the Monastery's first new arrival of 1999.
| | |
| --- | --- |
| | |
Born only that morning, this miraculous little creature is the embodiment of every little girl's dream. Far from shy, she walked toward the Sister who was trying to photograph her for registration purposes. She seemed to make no distinction between her mother standing by and the humans and dogs who were outdoing each other in curious admiration (well, maybe the dogs were just curious). The sisters explained that after a few days she would become shy, but for now she was taking it all in, except for a four minute nap taken with her front legs braced far apart. She weighed about twenty pounds and was not averse to being held. A beautiful time and place to be born, for sure. No one was in a hurry to tell her about fire ants and Texas summers.


© John Troesser

---