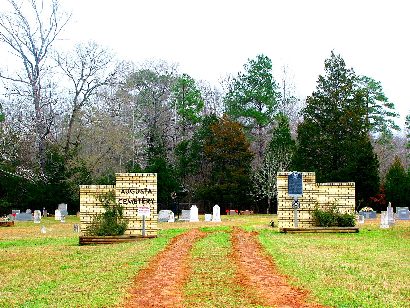 History in a Pecan Shell
Augusta Smith, daughter of an early settler is the supposed namesake. The site dates from 1821 when Daniel McLean built his home here.

Prior to the Civil War, Augusta was a center of trade for Houston County plantations. A Male and Female Academy was established just prior to the Civil War and the community was granted a post office in 1882.

By the mid 1880s, Augusta had a population of 200 residents as well as three stores, cotton gins, and a school and (Union) church. Although its post office was closed, and businesses shrank to only three, the town's population peaked at 250 Augustans in 1936.

The population dropped to 120 in the 1940s and the postwar years were very rough on Augusta. By 1952 there were only 20 residents left – a figure that remained in place for decades. The 2000 census showed that same estimate and the 2010 census figures are not available as of this writing.
Historical markers on FM 227 in Augusta
Photo by Dana Goolsby, February 2011
The Edens-Madden Massacre of Houston County by Dana Goolsby

Almost two centuries ago, a gruesome massacre occurred in the northeastern portion of the county, near San Pedro Creek and the Augusta community, which was established in 1821. The massacre has lived on as local legend of a tragedy that claimed the lives of many helpless people. The blood curdling screams of women and children echoed through the piney woods on that night, October 18, 1838, accompanied by the war whoops of Indians, in what is known as the Edens-Madden Massacre... more

Today four historical markers stand in the bend of the curb in the Augusta Community, at the site of the massacre. The bodies that were recovered from the vicious attack are buried in the Augusta Cemetery, among many other pioneers of Houston County. The cemetery is located down a red dirt road, CR 1680, just 3/10 of a mile from FM 227 where the historical markers stand.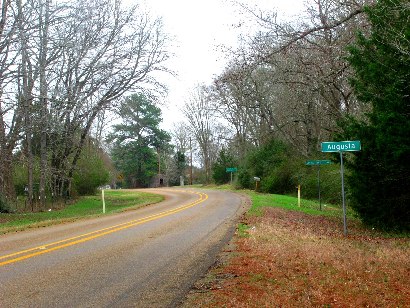 1940s Houston County map showing Augusta
(Above "S" in "H-O-U-S-T-O-N")
Courtesy Texas General Land Office
Where to Stay - Augusta, Texas Area Hotels:
Crockett Hotels

Texas Escapes, in its purpose to preserve historic, endangered and vanishing Texas, asks that anyone wishing to share their local history, stories, and vintage/historic photos of their town, please contact us.
Custom Search
Save on Hotels - Book Here