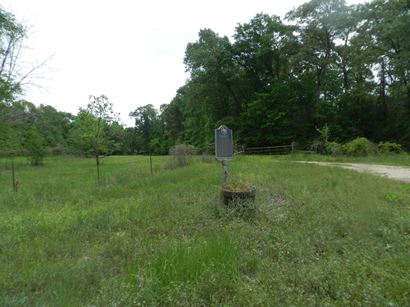 History in a Pecan Shell

A storeowner and mill operator named Eli Coltharp is credited with founding the community sometime before the Civil War. A post office had been granted in 1857 and remained open through 1909. The 1880s were Coltharp's salad days. Besides being a cotton shipping point (by water, not rail), the town could boast several gins, sawmills and gristmills and (an above average for small towns) population of 150.

A school was built in 1887 and although the population had reported a drop to just 50, two years later it had increased to 100. The town had gained a doctor and the law was provided by not one, but two constables. By the mid 1890s the population dropped again, this time to seventy five residents. Businesses fell from thirteen (1884) to just two.

The 1900 census reported 113 but thereafter, no figures are available. Students were transferred to nearby Kennard in 1925 and the town went into a death spiral. By 1946 the town was even dropped from the county map.
Coltharp, Texas Historical Marker
Photo courtesy Barclay Gibson, April 2016
Historical Marker (1.5 miles E of Kennard on SH 7)
Community Of Coltharp
By the late 1850s Eli Coltharp lived beside Cochina Bayou. He opened a store and post office on the stage route west of Nacogdoches. The farm area called Coltharp Hill boasted a gin, gristmill, blacksmith and millinery shops. A school building housed Coltharp Masonic Lodge No. 419, now in Kennard. When the railroad bypassed Coltharp and a sawmill opened nearby in 1901, residents worked at the mill and farming declined. The post office closed in 1909 and Coltharp School consolidated with Kennard in 1925. Many descendants of early settlers remain in the area.
(1979)
---
Historical Marker (on CR 4700, 1.2 miles SE of SH 7)
Pioneer Settlers of Coltharp
One of Houston County's important early communities, Coltharp was settled at this site in the 1850s. Pioneer settlers included Eli and Eliza Jane Coltharp, William and Rhodey Conner, Jacob and Rhoda Gregg, Silas and Sarah Gregg, L.B. (Brice) and Frances Conner John, and Thomas J. Payne. A frame schoolhouse and masonic lodge hall, a church, and numerous stores and houses once stood at this site. The economy turned from cotton and corn to timber in the late 1880s. Bypassed by the railroad, Coltharp declined by 1925 as residents left for nearby sawmill towns.
(1985)
Pioneer Settlers of Coltharp Historical Marker
Photo courtesy Barclay Gibson, April 2016
---
1907 postal map showing Coltharp SE of Crockett, in eastern Houston County
From Texas state map #2090
Courtesy Texas General Land Office
Texas Escapes, in its purpose to preserve historic, endangered and vanishing Texas, asks that anyone wishing to share their local history, stories, landmarks and recent or vintage photos, please contact us.