---
---
---
LUFKIN, TEXAS

"Crossroads of the Piney Woods"
Angelina County Seat, East Texas

31°20'13"N 94°43'49"W (31.336874, -94.730374)
Intersection of Hwy 59 and 69
124 miles NE of Houston
Hwy 59 North 20 miles to Nacogdoches
Population: 35,909 (2010) 32,709 (2000)
One of the many murals by Lance Hunter in Lufkin
Photo courtesy Barclay Gibson, April 2006
---
History in a Pecan Shell

Lufkin is named after Railroad Engineer E.P. Lufkin and Angelina County is named after an Indian girl who became an enthusiastic convert of the Franciscan missionaries. A bronze statue across from the Museum of East Texas honors her.

If you've ever been behind an 18 wheeler on the Interstate and have seen the word LUFKIN on the back of the trailer, it is from our featured town. In a convoluted evolution, the carriages that ran logs through the saw, became carriages that extracted logs from the forest. During WWII, the same company manufactured carriages to support howitzers, then school buses and finally they made the trailers that we see today.

Lufkin Industries also builds the pumping units you see all around oil fields. The Lufkin Industries historical relics room has one of these pumping units that was struck by a Japanese torpedo off the coast of California in 1942. It was damaged, but was not destroyed. How's that for proof of durability?

W.C. Trout, one of Lufkin Industries pioneers, bought the town it's first horse-drawn fire engine shortly after his gasoline stove exploded and burned his house to cinders. The Trout name is also seen at the Zoo. Walter Trout (one of W.C. Trout's sons) named the zoo after his mother Ellen. The zoo started in 1965 when a friend sent Walter Trout a 500 lb. baby hippopotamus as a combination gag gift/ zoo starter kit.

Lufkin's influence on the timber and oil industries in Texas cannot be overstated. Lufkin along with nearby Nacogdoches provide excellent bases for further exploration of East Texas.

(Source: The above information on Lufkin Industries and the Trout family was taken from Lufkin: From Sawdust to Oil by Elaine Jackson, Gulf Publishing, 1982)

In the early teens, Lufkin's water source was a standpipe in Cotton Square. The standpipe was drained in 1913 in the hope of finding the body of one Frank Parsons who disappeared after a violent explosion that destroyed a good portion of the railroad station. The blast must've been stronger than they thought. Frank's body turned up in California three years later, with Frank in it.
Lufkin Landmarks and Attractions
Texas Forestry Museum - 1905 Atkinson Dr. 936-632-9535
"Built in 1976 to preserve the history and heritage of the forests and forest products industry, recently underwent an extensive renovation at Lufkin. As a result, the museum offers visitors new perspectives of Texas' earliest industry, sawmilling, and one of its newest, the manufacture of paper." - Bob Bowman


Medford Collection of Western Art - 300 E. Shepherd St.


Museum of East Texas - In historic 1905 Episcopal Church. Second and Paul Streets. 936-639-4434


Cry Baby Creek
Jack Creek, a stream west of Lufkin, has for years been known as Cry Baby Creek, supposedly because a women and a baby died when their auto veered off a wooden bridge and fell into the steep creek. Annette Sawyer of Lufkin, who directed us to the bridge, said visitors who come to the site at night claim they have heard sounds resembling a baby crying. One visitor supposedly found the imprint of a baby's hand on her auto window after returning from the bridge. (From Reply to Readers by Bob Bowman )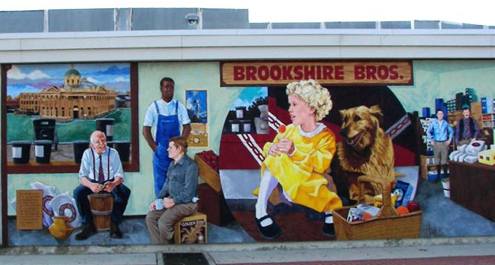 Another mural by Lance Hunter
Photo courtesy Barclay Gibson, April 2006
Southern Hushpuppy Cookoffs by Bob Bowman
Held annually in September as a part of the Texas Forest Festival.
The only hushpuppy cooking contest in the U.S.


Rudolph the red-nosed pumping unit by Bob Bowman
If you drive through Lufkin during the holidays, be sure to take notice of one of East Texas' most unusual Christmas decorations. For decades, "Rudolph the Red Nosed Pumping Unit," the creation of Lufkin Industries, Inc., the inventor of the balance-type oilfield pumping unit, has helped East Texas celebrate the season...
Lufkin Street scene
Mural by Lance Hunter
TE photo
Mural at Cotton Square and starting point of Downtown Walking Tour
Mural by Lance Hunter
TE photo
Redland Drive-In-Theater
More images
Photos courtesy Shawn Stephens, December 2017
The Old Redland Drive-in

"When I first moved to Lufkin in the early seventies, there were several drive-in theaters including the Panther Drive-In which was demolished long ago. The Redland is still standing intact, although dilapidated, and I understand it might be torn down soon. It sits on Highway 59 on the outskirts of town on the way to Nacogdoches. Included a couple of pictures. Thanks." - Shawn Stephens, December 10, 2017
Lufkin Chronicles - History, Stories & People
How a town was born by Bob Bowman
"...shed some light on the old story of how Lufkin became the county seat. "


Nazis in East Texas by Bob Bowman
Slightly more than sixty years ago, a German prisoner of war, known only as "Rothammer," carved his name on the gates of a POW camp beside U.S. Highway 69 north of Lufkin. In doing so, he left an almost indiscernible link between World War II and East Texas.


Remembering a Courthouse by Bob Bowman
"[I]n the l950s, many Texas counties threw aside history, tradition and elegance and replaced some of our finest courthouses with modern buildings -- many of them with little character or appeal. That happened in my home town of Lufkin." ...


A Soldier's Story by Bob Bowman
Milton -- an ancestor of Jack Irish of Lufkin -- found himself involved in the Siege of Bexar, the battle that preceded the fall of the Alamo, and barely escaped with his life during the massacre of Texas prisoners at Goliad.
A classic story of a simple soldier involved in the momentous events that gave birth to Texas.


Katherine Anne Porter in East Texas by Bob Bowman
"In her writings American essayist and Pulitzer Prize winner Katherine Anne Porter often wrote of the rural South, describing places that sounded remarkably like East Texas. There was a good reason. She spent several years of her youth at Lufkin and was married there in 1906...."


Remembering two doctors by Bob Bowman
When doctors W.D. Thames of Lufkin and Joe Dickerson of Jasper died recently, East Texas lost two unique physicians--men who made house calls, kept up with the babies they delivered, and cared for whole families....


Courtroom Storytellers by Bob Bowman
Because they've seen the best and worst of humanity, lawyers are among our best storytellers. Courtroom stories of Lufkin's Joe Tonahill and Jasper's J.J. Collins.


The Bravest Man by Bob Bowman
Those who lived in Lufkin during the Depression years knew Homer Garrison, Sr., as a kindly, genteel man who gave away pennies to children and felt he had cheated them "because I always got a two-bit smile." Somehow, it wasn't the image you expected for the bravest man in the world, which is the way his son, Homer Garrison, Jr., a man once considered as J. Edgar Hoover's replacement, felt about his father.


Making history by Bob Bowman
In August of 1945, when the United States dropped the first atomic bombs on Hiroshima and Nagasaki, Charlie Kimble of Lufkin was part of the American landing party that toured Japan's shambles and helped free 4,500 Korean prisoners of war...


The mayor and the lion by Bob Bowman
Years ago, when Pitser Garrison was the mayor of Lufkin, a young African lion was born at Ellen Trout Zoo.


Inventing the oilfield pumping unit by Bob Bowman


Not a happy camper in Angelina County by Wanda Orton
Lufkin Nearby Destinations
Angelina National Forest - 14 miles SE on US 69 to the nearest entrance


Davy Crockett National Forest - Hwy 94 West 11 miles


Sam Rayburn Lake - Ask Lufkin/Angelina County Chamber of Commerce 409-634-6644 for maps


Jonesville - Second county seat of Angelina County


Depression Era Roadside Park
A roadside park beside U.S. 287 a few miles before entering Woodville.
See Depression Parks by Bob Bowman ("All Things Historical" column)

Lufkin Tourist Information
Lufkin/Angelina County Chamber of Commerce
On the Loop (287) at Chestnut St.
409-634-6644. Website: www.lufkintexas.org

Book Hotels > Lufkin Hotels
---
Texas Escapes, in its purpose to preserve historic, endangered and vanishing Texas, asks that anyone wishing to share their local history and vintage/historic photos, please contact us.
---