History in a Pecan Shell
Emilee McClendon was the wife of early settler John B. McClendon, who evidently relinquished his naming rights in favor of his wife. The defunct town still holds the oldest cemetery in Tyler County - named for Squire Cruise who had moved into the area in 1833.

The town of Emilee peaked in 1892 with a population of 150 people. Besides the essential grist mill, the town had a store and a cotton gin as well as a chair factory.

The town had a functioning post office from 1904 to 1946 but it was around the turn of the century that things turned bad for the community. The 1900 population had fallen to just fifty people and they continued to use that figure through the Great Depression and WWII. The last count was made in 1948 and was still fifty.

The community population just seemed to melt away, leaving just the cemetery to mark its existence.
---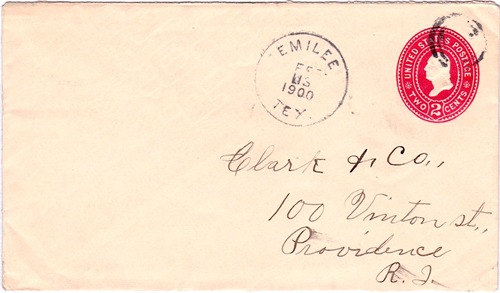 1907 postal map showing Emilee
(NE Tyler County near Jasper County line)
From Texas state map #2090
Courtesy Texas General Land Office
Texas Escapes, in its purpose to preserve historic, endangered and vanishing Texas, asks that anyone wishing to share their local history, stories, landmarks and recent or vintage photos, please contact us.