WOODVILLE, TEXAS
Tyler County Seat, East Texas

Junction of US 69 and US 190
56 miles N of Beaumont
48 miles S of Lufkin
67 miles S of Nacogdoches
120 miles E of Houston
Population: 2,625 (2010) 2,415 ( 2000) 2636 (1990)
Established in 1846, Woodville was named after the second governor of Texas, George T. Wood.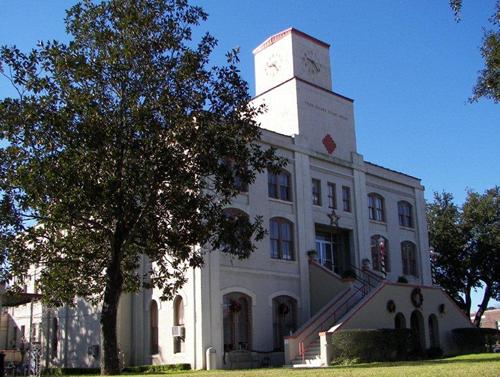 Woodville Attractions, Landmarks & Recreation
Heritage Village Museum
On US 287, 1 mile West of Woodville. Admissions.
Shivers Library and Museum - 302 N. Charlton. Admissions
Alabama-Coushatta Indian Reservation - 936-563-1100
In the Big Thicket. Camping, fishing and swimming
Big Thicket National Preserve
For information, check with Big Thicket Information Station on FM420, 7 miles N of Kountze. 409-246-2337
Kirby State Forest - On US 287, 14 miles S of Woodville
Lake B.A. Steinhagen
Lake Livingston
Martin Dies Jr. State Park
A roadside park beside U.S. Highway 287 northwest of Woodville is a wonderful place just for sitting on a park bench, listening to the sounds of the forest, and dipping your toes in a spring-fed pool built by Civilian Conservation Corps workers in the 1930s. Families come here for reunions, kids enjoy running around the expansive grounds, and Scout troops often camp beneath the tall trees.
(From "Out-of-the-way places" by Bob Bowman)
Woodville Methodist Church
Postcard courtesy www.rootsweb.com/ %7Etxpstcrd/
Woodville Major Events
Tyler County Dogwood Festival in the Spring

Christmas at Tyler County
Call the chamber for information
Woodville Tourist Information
Tyler County Chamber of Commerce - (409) 283-2632
717 W. Bluff Woodville, Texas 75979
http://www.woodvilletx.com/
---
---
Texas Escapes, in its purpose to preserve historic, endangered and vanishing Texas, asks that anyone wishing to share their local history and vintage/historic photos, please contact us.