PINE SPRINGS, TEXAS
AKA Fruit, Texas
Smith County, East Texas
U.S. Highway 271
About 6 Miles N of Tyler
Population: 00150 (2000)
Pine Springs, Texas Area Hotels > Tyler Hotels
History in a Pecan Shell
Earliest settlement was in the 1840s but it didnít develop until 1881 when E. S. Cook and Perry Ray bought land here for a planned community. The first building was a school, that was also used for Baptist Church services.

The name was chosen by John Ray for a local spring and the woods in which it flowed. Because of the orchards and a canning factory, the post office granted under the name of Fruit, Texas when it opened in 1894. (See 1907 Smith County Postal Map)

But blight hit the orchards in the late 1890s, resulting in an exodus of farmers. The cannery closed and the desperate fruitgrowers turned to roses. This was the birth of the huge Tyler rose industry.
During the Great Depression, the town only had a single business to stand beside the church, school and cemetery.

In the early 1950s, locals schools formed an Independent School District which was absorbed into the Tyler School System in 1956.

The original school building has become a community center. The town is currently far enough from Tyler to be safe from annexation.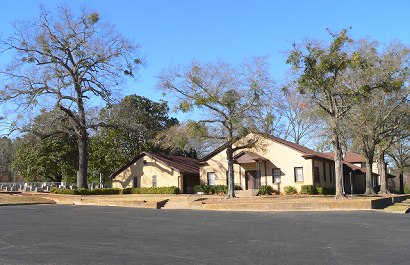 Historical Marker Text
(Location - Pine Springs Rd. at Donaldson Lane, about 2 miles N of Tyler)
Pine Springs Baptist Church
In 1881, E. S. Cook and Perry Ray, trustees for the Pine Springs School community, purchased nearby land for the construction of a schoolhouse. Soon after, the Pine Springs Baptist Church of Christ was organized under the direction of the Rev. Marcus Morton Wadsworth (1841-1908), who served as the first pastor.

Monthly worship services were conducted in the schoolhouse until a separate sanctuary was built at this site, north of the school, in the early 1890s. About the same time, the congregational name was changed to the Pine Springs Baptist Church.

The fellowship experienced steady growth during the pastorate of the Rev. Tully Choice, 1894-1897. The development of the area fruit growing and canning industry brought new members, and a Sunday School and bimonthly services were established. Regular weekly services began about 1935.

For over 100 years the Pine Springs Baptist Church has been active in the growth and development of the surrounding area. Members here have included early settlers, soldiers stationed at nearby Camp Fannin during World War II, several pioneers in the development of the area rose industry, and many prominent community leaders.
1981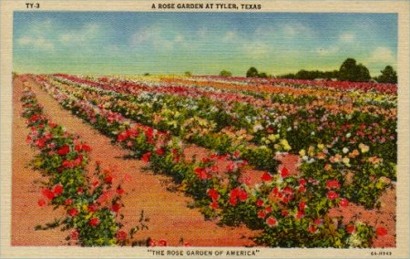 Tyler Rose Farm
Postcard courtesy www.rootsweb.com/%7Etxpstcrd/
Smith County 1907 Postal Map showing Fruit, N of Tyler
Courtesy Texas General Land Office
Custom Search
Book Hotel Here - Expedia Affiliate Network