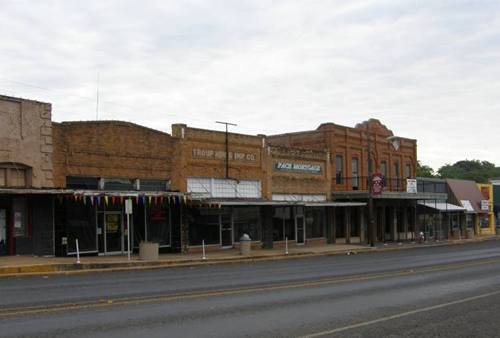 History in a Pecan Shell

The area had been settled prior to 1850 but no development occured until the arrival of the railroad in the early 1870s when the Houston and Great Northern appeared. The town was platted where the railroad's mainline continued to Longview while a branch extended to Tyler.

A post office under the name of Zavala opened in 1873 but was changed to Troup in 1877. The 1892 population was 600 with all essential businesses including several millinery stores. It doubled by 1902 to 1,200 citizens. By the end of the 1920s, Troup had 1,800 people. The town was spared the brunt of the Great Depression by becoming an important location for the East Texas oil boom.

Troup had 75 businesses in the mid 1930s and ended that decade with a population of 3,000. Increased mobility after WWII reduced the population by half.

New Hope, Salem, and Prairie Lee schools merged with the Troup ISD in the early 50s. The 1981 population was given as 1,911 and for the 2000 population it was 1,949.
First Presbyterian Church