If you know why Texas Ranger Captain Charles L. Nevill spat his fine pipe right out of his mouth, then you know more about Big Bend history than most Texans.

Big Bend, as the Rio Grande is affectionately known by some, and El Despoblado (uninhabited land) by others, is a quiet place, and big, even by Texas standards, at 180,000 acres. To give you an idea of how big that is, Dallas' Southfork Ranch (located in rural Braddock) was 160 acres.

Anything as big as Big Bend is bound to be pretty empty most of the time, except Spring Break when the college kids come, and Thanksgiving, Christmas and New Year's when visitors drop by to see wonders of nature so beautiful, that they were photographed by Ansel Adams in 1949.

Modern folks like to live in the now, but this is about people who lived in the then.

Like Capt. Nevill.


On December 19, 1881, Capt. Neville, accompanied by four of his Texas Rangers, and three surveyors, set out from Presidio del Norte to navigate an unexplored section of the Big Bend.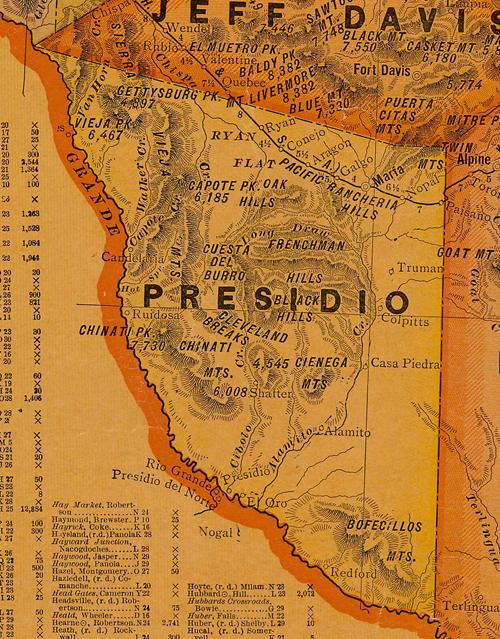 1920 Presidio County map showing Presidio del Norte
From Texas state map #10749
Courtesy Texas General Land Office
They weren't the first team to try this, but other expeditions were stopped by unexpected obstructions, like boulders suddenly rising up from the waters. And something else stopped further exploration—fear. Fear was thought to be somewhat of a deterrent for previous explorers.

Nevill got plenty scared himself when his boat hit some rapids, and canyon walls got higher and higher, but he took things in stride. "Everything went lovely," he wrote in all modesty, "The boys learned to boat very fast."

They may have learned to boat very fast, but the inexperienced crew became overconfident. This, coupled with deceptive currents and whirlpools, resulted in their boat crashing into a boulder, scattering the crew, supplies, and over 300 pounds of ammunition, across the Big Bend.

"I was carried down the river like I was shot out of a gun," Nevill recalled later. "I had on my big boots, coat, pistol and belts, and of course as soon as I struck an eddy I sank." He managed to rise above the water, however, and onto a rock, still clutching his favorite pipe between his teeth. While gesturing to a companion about to swim into the current, Nevill lost his balance and slipped off his rocky perch. "I went under," he said later, "and thought I'd never make it out alive." Since he thought he'd have no further use for a fine pipe, he just spit it out and prepared to die.

Fate had other plans for Nevill, who made it to shore. Having nearly drowned, he checked what was left of their supplies and found they had lost all of the ammunition and most of the food. They had no coffee, no sugar, no salt. For Christmas dinner, Nevill and the crew had plain venison. Venison without salt would be like eating a musky pine log.

Despite falling ill for a few days, Nevill recovered and was back on track again by January 2nd. This time, the men faced Santa Elena Canyon, the "one with the bad reputation -- one that no outfit ever ventured to tackle before," Nevill wrote.

A boundary survey team of 1852 had scouted the canyon by sending an empty boat through, but "no two planks came out together."

Nevill and his men decided that not everyone should risk a canyon that local Mexicans referred to as "utterly impassable." Two boat men deserted. Neville took two men who couldn't swim and rode up to the Mesa de Anguila to watch the surveyors' progress.

"I was so high above them, when they would hallow [sic] at me, I could not distinguish a word said and they could not hear me at all," he reported.

The boat men lost a day and a half getting around a rock slide on January 4th, but all reached the mouth of Santa Elena Canyon.

Though many expeditions followed, Nevill's was the first documented float through Santa Elena. He had succeeded in making his pipe dream come true.


© Maggie Van Ostrand
"A Balloon In Cactus" February 27, 2006 column
Sources:
National Park Service, U.S. Department of the Interior,
Amon Carter Museum of Western Art, Ft. Worth, and
The Big Bend: History of the Last Texas Frontier by Ronnie C. Tyler


Book Hotel Here
Lajitas Hotels
More Hotels

Recommended Books The Big Bend:
History of the Last Texas Frontier