Faded Photographs

by Mike Cox

The people in these images could be your ancestors. Or mine. One thing is sure: They are long dead, and so, too, is anyone who could identify them.
"Adopt a Family" says the hand-lettered sign on the box in the antique store. "Put 'em on your mantle. $3 each."

Inside the box lay a collection of old photographic portraits mounted on cardboard, their once black-and-white images faded to sepia. Babies had been shushed long enough to be posed in elaborate studio settings, stern-looking women sat stiffly in dark dresses buttoned to their neck, mustachioed men in suits and high-collars stood next to their wives before a fake studio background.

Vintage photographs seem to be an increasingly popular inventory item in antique stores or malls. The going rate is only a few bucks per image, though like most collectibles, prices vary from less than that to a lot more.

Collectors are particularly interested in photographs mounted on ornately decorated cardboard bearing the name of the photography studio. They also like vintage clothing, interesting studio backgrounds, work by a particular photographer, Civil War and Old West images, disaster photographs, early town and city scenes and interesting shots of interesting people doing interesting things.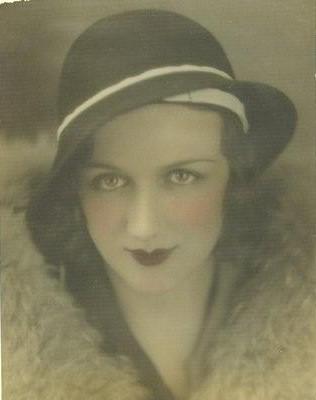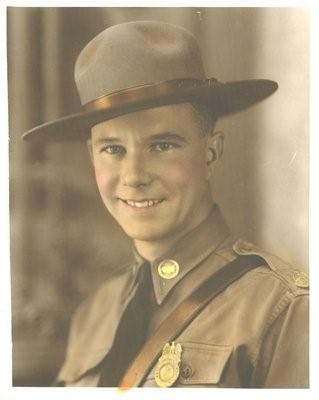 While the people and subject matter vary, most of the faded images you see in shops have something very sad in common: No one ever bothered to write the name of the person or place on the back of the photograph.

The people in these images could be your ancestors. Or mine. One thing is sure: They are long dead, and so, too, is anyone who could identify them.

Caches of photographs usually come from estate sales. Often they are displayed in the same trunk or box they had been kept in by the last survivor of their family. At least the last survivor who cared enough to keep them.

Over the years, I've acquired dozens of unidentified photographs, fascinated by the stories they hint at.

For example, there's the older woman in the black dress with white polka dots, standing in front of a car holding a photograph of a man in uniform. The only clue is the date, "May 29, 1944." Is he her son? Grandson? Had the family just received news of his death? The questions go on and on, the answers likely unattainable at this late date.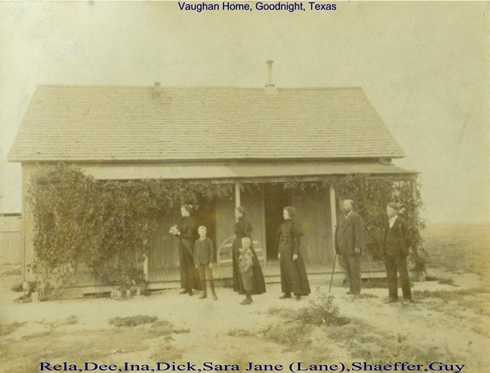 Courtesy Lance Ingham Sloan, (decendent of the Vaughan's of Goodnight) and (GGGG-nephew of Charles Goodnight)
Just as frustrating is finding a particularly interesting shot of an early-day community or scene that would be far more useful, not to say valuable, if a location had been given. Sometimes, happily, an image will contain enough clues for an identification to be made, but not always.

But it's the unidentified photos of people that particularly haunt me. I feel sorry for these folks and their families, but not because they are no longer with us. That, obviously, awaits us all. In a way, they are only partially dead, stuck in an in-between dimension. An instant of their life captured on tintype, glass plate or early Kodak negative still exists, but is no longer conntected to their name.

All that remains of them is that images, waiting for someone willing to pay $3 for it. Of course, if that old photograph does bear some form of identification its value can increase tremendously. Images of identified Civil War soldiers or officers and long-gone structures bring much higher prices.
Hall Family and Friends
Courtesy Lola Hall Norton and Laura Jean Hall
Courtesy Billie Mayhall Freeman
Courtesy Courtesy Rob McLain
Most of the old photographs haunting the antique stores of Texas will remain forever nameless, but we can protect ourselves, our family and our friends from this photographic purgatory.

Make sure you label your film-era pictures. Go back and label the ones you have while you can still remember who's in them. If your parents or grandparents have a drawer full of old pictures, spend some time with them and get the names of your forebears on those pictures while you still have a chance.

Admirably, many libraries and archives holding photographic collections actively try to get unidentified images pegged. They publish interesting photographs and hope someone will be able to come up with a name or location. ( See Casasola Collection)
The internet has raised the odds of being able to ID an old picture. A genealogical magazine, My Family Tree, publishes scans of nameless photographs and has had success in attaching names to faces.

Also thanks to the net, family historians can at least learn some things about their unlabeled photos. Various Web sites chronicle clothing and hair styles by era, types of photographs, and other information which can at least pinpoint the approximate date of an old photograph.

Digital technology also makes it possible to restore a photograph and enhance features not readily apparent in the originals. Of course, the same technology also makes it possible to trick up photographs, but that's another story.

© Mike Cox
"Texas Tales" September 30, 2010 column
See Texas Vintage Photos
Books by Mike Cox - Order Now
Custom Search