The Great Texas / British TV
Hoax of 1953
On the afternoon of Sept. 14, 1953, television viewers over a large area of England supposedly saw on their screens the test pattern and call letters of KLEE – a TV station located 4,860 miles away in Houston.

The Bayou City's first TV station, and only the nation's 12th, KLEE hit the air on Jan. 1, 1949. Its call letters came from the last name of its owner, hotelier W. Albert Lee. Back then, most stations did not broadcast around the clock, and when they went off the air for the night, they put up a weird-looking series of circles and whirly images known as a test pattern.
| | |
| --- | --- |
| As Frank Edwards wrote in his 1962 book, "Strangest of All," the KLEE signal came in clearly over much of the British Isles. Indeed, he continued, the image was "so strong that many viewers had ample time to photograph this remarkable long-range television reception. British broadcast engineers were promptly informed of the unusual circumstances and they too were able to pick up the signal without difficulty." | |
Back then, long before satellites, cable systems or online TV via broadband internet, television broadcasts were limited to VHF channels 2 to 13 and a station with more than 100 miles range was rare. Still, anyone who knows even a little about the transmission of radio waves knows of the "skip" phenomenon, in which a signal can bounce in the ionosphere far beyond its normal range because of climatic conditions.

"British authorities attached no real importance to this reception of the KLEE signal," Edwards went on, "at least not until they contacted KLEE on the matter."

What they learned was that KLEE had been off the air since mid-1950, three years prior to the appearance of its call letters on numerous British TV sets. The Houston station, broadcast on Channel 2, had been purchased by the Houston Post on June 1, 1950 and its call letters changed to KPRC a month later.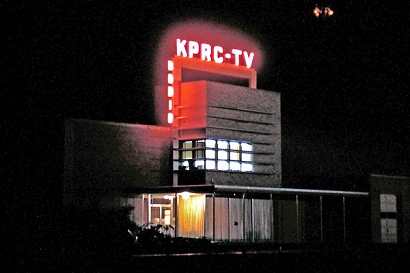 According to Edwards, the British then decided to get serious about investigating the incident. Unfortunately, again as Edwards reported, the best brains in the UK could not explain the enigma. To override British television signals, someone would need an extremely powerful and expensive transmitter, likely a series of them. Since only a very bored multi-millionaire could have done that, maybe the appearance of the Houston TV call sign had been an experiment on the part of some government working to develop a way to take over a nation's communication channels. Were the Russians up to something? Maybe the American CIA? And if so, why would they use the call letters of a defunct Texas TV station?

Then again, maybe an even more sinister force lay behind the incident.

"We are confronted in this instance with a set of circumstances which are at variance with accepted knowledge of television transmission," Edwards quoted the chief engineer of the British Broadcasting Corp. "It is unthinkable that these signals should have been circling the earth of the period of time since that station last broadcast them. It is physically impossible that they could have been reflected to us by chance from any celestial body at such a vast distance."

Then the engineer delivered a "Twilight Zone"-esque punch line: "That leaves us with but one possibility, however bizarre, that these signals were transmitted to us purposefully and intelligently, from a source and for a purpose presently unknown."

In other words, perhaps space aliens bent on conquering Earth had tested a system to take control of the world's broadcast media. That, or maybe their sense of humor was as sophisticated as their technology.

TV Guide carried a story on the mystery in its April 30-May 5, 1954 issue. Four years later, the venerable Reader's Digest published an account of the incident. Edwards retold it in his book, and other tellings would follow.

Alas, a story born of technology finally died of technology. The power of the internet finally enabled the truth to come out: It was all a hoax, albeit one based on a business model rather than something perpetuated just for the fun of it.

As it turned out, in a particularly clever marketing effort, a would-be British entrepreneur had sent a form letter to all U.S. TV stations making the claim that their station's signal had recently been viewed in the UK. For proof, the sender included what appeared to be a photo of that station's test pattern on a TV screen. Hoping to peddle a TV set he claimed could receive broadcasts from extreme distances, the sender had been working from an old list that did not reflect the Houston station's change of hands.

All the other TV stations getting the letter tossed it. But when the letter from England got forwarded to KPRC, someone thought it looked like news and the station did a story on it. The Houston station soon figured out what the sender of the letter had been up to, but by then it was too late and yet another urban myth had been born. Like a radio wave moving ever deeper into space, it continues to live on.


© Mike Cox - January 10, 2013 column
More "Texas Tales"
Related Topics: People | Columns | Texas Towns | Texas
Books by Mike Cox - Order Now
Custom Search