No matter the old cowpoke's backstory, in his dotage he could round up words on paper just about as well as he once rode down and roped strays.

For a while in the 1920s, an organization called the State Association of Texas Pioneers published a monthly magazine in San Antonio, The Texas Pioneer. The publication, copies of which are now pretty scare, detailed the affairs of the organization and featured articles on Texas history as well as old-timer recollections.
In a section called "Back Trailing," the magazine's October 1928 issue published a letter to George W. Saunders, prime mover in the Old Trail Drivers of Texas and with J. Marvin Hunter, compiler of the classic book "The Trail Drivers of Texas." The letter came from one R. Van Dolen.

An old trail driver, Van Dolen obviously was in a reflective mood when he wrote Saunders. As the letter's salutation suggests, they were well-acquainted. Here's how he started out:
"My Dear Old Friend: -- In the early days of Texas, that is when we were young –that is when all of Southwest Texas was just an open wilderness where the longhorn cattle, the mustang horses, the deer, the antelope and wild turkey roamed free, then when we old trail drivers after a round-up laid down in the grass while the cook hummed his song while making that good old corn bread and frying meat, when he called out 'supper is ready, come and get it.' He never had to call us twice when we were up and around the old chuck wagon getting our bread and meat and black coffee."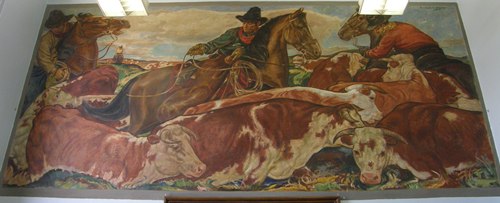 While an English teacher's red pen would dart around that long, incomplete sentence like a fly over a cow pattie trying to decide where to land first, in those 106 words Van Dolen painted a vivid picture of what it was like to be a Texas cowboy in the 1870s.

Meanwhile, back at the chuck wagon, the old waddy demonstrates he had a sense of humor:

"Those were the days when the doctor didn't operate on us. We did all the operatin' ourselves."

After that laugh, he went on:

"When we had a herd of cattle we old trail drivers had to sleep with all our clothes on and our horses saddled in case of a stampede. We had many obstacles in those days with the horse and cattle thieves, desperadoes and fence cutters, but some of them died with their boots on and some of them went to the pen."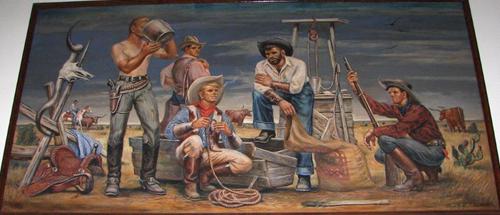 Though fondly remembering the past, Van Dolen clearly appreciated the present. Beyond that, he obviously took pride in the part he'd played in making Texas what it had become:

"Now you see that it is the old pioneer cattlemen and the old trail drivers that have made Texas what it is today. My dear old friend George, we have lived to see all this wilderness turn into a prosperous farming country.

"When we old boys ride now over the state highways we can see fine farm houses and barns and we can see fine high schools and churches where in the early days of Texas they were far and wide apart. All us old trail drivers that have passed three score years and ten will soon be with the old boys that have passed over the last long trail and we will all round up in glory. Yours truly, R. Van Dohlen."

Unfortunately for posterity, other than that short letter, this old timer did not leave an easily followed set of tracks. He's not mentioned in Saunder's 1044-page book, which originally came out in two volumes, and a search of a Web site featuring hundreds of digitized newspapers reveals no articles about him or even an obituary. Neither does an online search turn up the location of his grave site.

Further confusing the hunt for any biographical information, the headline atop Van Dolen's letter reads simply "R. Van Dolen." But sharp-eyed readers will have noted that the letter's signature includes an "h" in the author's last name. It's probably a typographical error, but then again, the headline could be the boo-boo.

One thing's for sure. Being past 70 in 1928, it wouldn't have been too many years later that the author of that long-forgotten letter made that last round-up he had envisioned.

© Mike Cox
"Texas Tales" February 24, 2011 column
More on Texas ranching, ranchers, cowboys, cattle drives...
Books by Mike Cox - Order Now
Custom Search