I have a little gold-framed picture on my mantle at home that is quite dear to me.

The photograph is of Dr. Pat Wagner of Shiner and me. In the picture, we are posing proudly with Dr. Wagner's famed "Come and Take It" cannon. Wagner, better known to all as "Dr. Pat," politely agreed to my request for the picture-taking session sometime back in the late 1980s.

Texas lost another of her special sons when Dr. Pat Wagner passed away.

Much is owed to Wagner. Those of us who love Texas history can thank him for the little cannon that is presently on exhibit at the Gonzales Memorial Museum. It was his love for this area and the story of the Battle of Gonzales that made him relentless in his efforts to recover the old cannon and return it to the people of Texas.

Historian and respected medical doctor; Dr. Pat was passionate about his love for Texas. He was devoted to his community and worked hard to preserve the history of the surrounding area.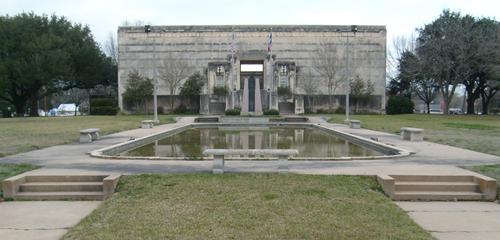 Dr. Wagner and "Come & Take It" Cannon
Courtesy of Gonzales County Archives
It was always Texas history that seemed to be a source of pride for Wagner. He was determined to prove that the cannon he purchased from Robert Vance of Refugio was truly the little gun that had started the Texas Revolution at Gonzales on October 2, 1835.

Dr. Pat acquired the cannon in 1979 and proceeded to work towards getting the weapon authenticated as the one involved in the important battle at Gonzales, which is considered to be the first shot fired for Texas independence.

An article written by Clarita Fonville Buie appeared in the January 1981 issue of Texas Highways magazine and it describes how Wagner proved the cannon to be the one that initiated the hostilities between Texas and Mexico.

Buie's story tells how Dr. Pat used medical instruments to photograph the inside of the cannon. He was looking for evidence that the gun had been spiked as described by Noah Smithwick. It was Smithwick who had worked on the cannon in 1835.
Noah Smithwick's book Evolution of a State, gave Dr.Wagner the idea that his little artillery piece might really be the one. Smithwick was a man who paid much attention to detail. He described exactly how the gun looked; what kind of material it was made of, and most importantly, how long it was and the type of work he (Smithwick) had performed on it.

Wagner found proof of Smithwick's work and later when the cannon was x-rayed, there was little doubt that the old gun was the "Come and Take It" cannon.
Dr. Pat wasn't alone in his quest to find out the truth about the cannon. He received help from Allen Ondrusek and Douglas Kubicek of Lavaca County. They helped greatly in the research.

Also, according to the Texas Highways' article, Eugene Key of Dewville and Lowell R. Cooper of Nixon provided beneficial information.

The efforts of Dr. Pat and his colleagues paid off. A report from the Smithsonian Institution ruled out the possibility of a fraud or hoax. The little cannon was authenticated.

In later years, there were those who questioned if Wagner's cannon was indeed the weapon used by Texans to start a revolution with Mexico in 1835. However, until they prove beyond a shadow of a doubt that it isn't authentic, I imagine most folks in these parts will continue to believe Dr. Pat's little artillery piece is the real deal.

It should also be noted that the old cannon wasn't Wagner's only project. An article by Henry Wolff, Jr. in the Victoria Advocate tells of Dr. Pat's involvement with another historical project located in Lavaca County.

According to Wolff, Dr. Pat worked to purchase and preserve the old George West home at Sweet Home. Henry Wolff wrote that this was, "... the first home of the legendary South Texas cattlemen which West built for his bride, Kittie Searcy." Wolff noted that Wagner was involved in the placing of a historical marker at the site several years ago.

The Come and Take It cannon and the George West home are two of Dr. Pat Wagner's projects. I wouldn't be a bit surprised of there were many more.
I don't pretend to know how Dr. Pat would have wanted to be remembered. Unfortunately, I can't even say that we were close friends. But I do recollect from the few times that we were together; there was no doubt that he took phenomenal pride in the history of the Lone Star State.



© Murray Montgomery October 16, 2012 column
More Lone Star Diary
Related Topics: Gonzales, Texas | Battle of Gonzales |
Columns | People | Texas History | Texas Towns | Texas |
Custom Search