GONZALES, TEXAS
Suggested slogan: Come and enjoy it! ©

Gonzales County Seat, Central Texas South
Hwy 183, 13 miles S of I-10
65 miles S of Austin
65 miles E of San Antonio
130 miles W of Houston
Population: 7202 (2000)

A Short Description of a Town Long on History

Outside of Nacogdoches, whose History predates the Texan Revolution, there is no town that figures so significantly in Texas History as Gonzales. Well, there is Brownsville. O.K. Nacogdoches, Gonzales and Brownsville. Of Course San Antonio goes without saying.

Gonzales is the only town of its size to retain its name from Spanish rule. It's ironic that this was the westernmost Anglo settlement in what was to become Texas. Beside it's being "The Lexington of Texas" and firing the first shot, it also was the only town to send reinforcements to the Alamo, a gesture that is understated in every History of the State. In return, Gonzales was burned to the ground in "The Runaway Scrape" and survived flood, other fires and John Hardin (who behaved himself both times he called Gonzales home). There was that little escape from the jail, but nobody got killed. With a history like this no wonder Gonzales developed a sort of self-imposed isolation for many years.

Gonzales Hotels > Book Here
Gonzales Landmarks / Attractions
1939 Photo courtesy TXDoT
More Gonzales Attractions
The Sam Houston Oak Mike Cox "Texas Tales" column
The ancient tree shades a wide area just east of Peach Creek, 8.5 miles from Gonzales...
Pioneer Village Murray Montgomery "Lone Star Diary" column
The nine-hole golf course and
The Guadalupe River


Sight Seeing
Gonzales, The Trip

Gonzales Nearby Destinations
Gonzales Hotels
> Book Here
A Destination Worthy of a Drive
Today, there's plenty to do and see, and it's certainly a destination worthy of a drive from Dallas as well as Houston. It's a mere 64 miles from Austin, and San Antonio is a brief and comfortable 66-mile drive.

Bed and Breakfasts provide a civilized and relaxed way to visit, and for the more savage and pagan, there are two unusual and under-used parks only minutes away. The city itself has Independence Park with many amenities and views of the Guadalupe River come with nearly every picnic table.

Gonzales is undergoing a skin shedding of sorts, with many houses undergoing restoration, following the lead of their magnificent courthouse. A Main Street City, it has shown its awareness of its own importance.

Gonzales Hotels > Book Here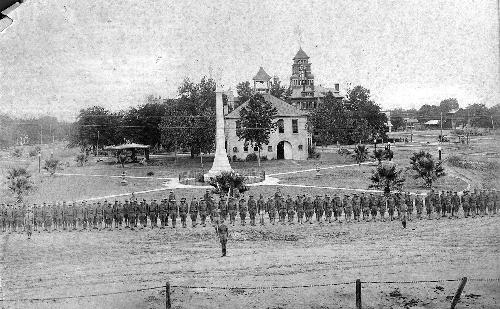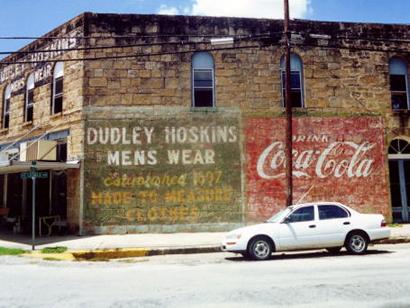 Gonzales Texas Forum
Subject: Gonzales Inquirer - Thank You
I'd just like to thank you for the blurb on the Gonzales Inquirer. My father, Paul Ziemer, served as Editor of the paper in 1953-55, and my mother, Margaret Ziemer, was (I believe) the first female editor in chief of that venerable paper, in 1956. - Eric Ziemer, August 07, 2004
All the DeWitt Colonists want to say thanks for the feature on our head municipality, Gonzales. Well done, it's hard to fish out because of poor record keeping, but contemporary Texians (and DeWitt Colonists) were a bunch of jokers half the time, in fact it's pretty well known that a significant portion of the Old 18 including alcalde Ponton were "pulling Col. Ugartechea and Lt. Castaneda's leg" on multiple events during the affair over a tube that could barely belch (or should we say vomit given a good powder emetic) out a potpourri of half-digested ordinance from local blacksmith trailings (it made a lot of noise though). - Wallace L. McKeehan, SONS OF DEWITT COLONY TEXAS October 10, 1999

I found your website today and was both impressed and enchanted with the variety of material and humor. I liked the cow (steer?) over the Gonzales restrooms! - Bill Rau, SIDE ROADS October 13, 1999

Each visit to Gonzales convinced us that their desire to show their town is a sincere desire to share. Our special thanks to the Chamber of Commerce for their candor and to the Historic Society who contributed the images you'll see throughout the trip. Thanks also to the citizenry of Gonzales (new and old) who took time from their daily routine to answer questions and give directions to us (most of which were correct). - 1999

Gonzales Hotels > Book Here

Texas Escapes, in its purpose to preserve historic, endangered and vanishing Texas, asks that anyone wishing to share history or vintage/historic photos, please contact us.
Custom Search
Book Hotels Here - Expedia Affiliate Network