YUCCA, ARIZONA
Arizona Ghost Town
Mohave County
Interstate 40 (Old Route 66)

About 25 Miles SW of Kingman, Arizona
About 50 Miles SE of Oatman, Arizona
About 38 Miles E of Needles, California
Population: 282 (2000)

Book Hotel Here > Arizona Hotels
History in a Pecan Shell

Yucca began life as a true "jerkwater town" where railroad steam engines stopped for water. The railroad was originally the Atlantic and Pacific Railroad – although the name was a slight exaggeration since it originated in St. Louis and Needles, California was its terminus.

During World War II, the site was chosen for an Army Air Corps pilot training facility and in the 1950s it became the site for the 4,000 acre Ford "Proving Ground" which has since been acquired by the Chrysler corporation.

Residents of Yucca may have been content to live in the slow lane, but progress found it in 1952. An improvement in the legendary Route 66 drove traffic through Yucca (at the cost of Oatman's economy).

Yucca thrived for the next twenty years or so from on the increased exposure and the postwar economy. Several cafes, a "classic" motel and a truck stop provided jobs and the town's future looked bright. But progress again raised its ugly head and the building of I-40 made Route 66 obsolete, allowing travelers to reach their destinations faster and depriving them of the charm of small town rest stops. Although no population figures of Yucca's high-water mark are available, the town retains essential businesses and its own post office.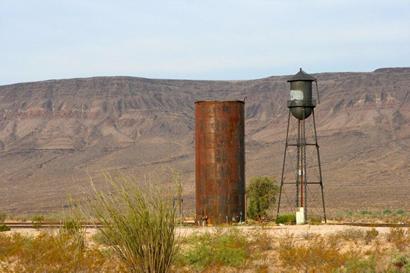 ---