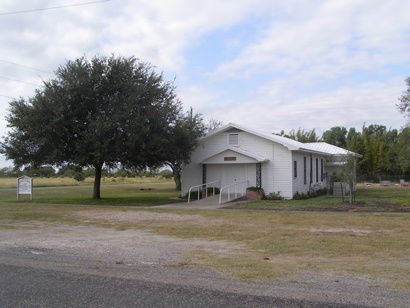 Argenta, Texas
Photographer's Note:
Argenta is in the SE corner of Live Oak County & near the Bee & San Patricio County lines. Just north of Mathis and SSE of Beeville, TX. Farming & Ranching Community with scattered residences. - Will Beauchamp, November 07, 2008


History in a Pecan Shell

Argenta dates from 1903 when Oklahoman Richard B. Bomar relocated here and improved the land. He wrote to the folks back home, describing the area and before long a community formed. The original post office dates from 1907 when it opened under the name of Ego, Texas. Perhaps fearful of becoming known as Egoists, the townspeople renamed their town Argenta (no explanation available) in 1910.

The population in the mid 1920s was estimated at 50 and the residents were engaged in farming cotton, their livelihood back in Oklahoma. Despite the "importation" of a gin from Oklahoma, declining prices and the boll weevil depressed the cotton market and the town declined accordingly. The post office closed in '26 and the town's store closed the following year.

By 1940 very little was left. The school merged with those in Mathis in 1945 and today is used as a community center.