BLANCONIA, TEXAS
Bee County, South Texas
Highway 202
22 Miles SE of Beeville
Population: 30 (2000)
History in a Pecan Shell
Originally part of the shared Mexican state of Coahuila y Tejas, Blanconia dates from 1834. After the Texas Revolution it was in Refugio County – becoming part of Bee County in 1857.

Once named Kymo, the name changed when a post office was applied for in 1888. Blanconia comes from local Blanco Creek. The post office closed in the 1930s.

The town's most famous/infamous character was the colorful and mysterious Sally Scull.

Residents were scarce and although the community had a school in 1905, there were only a dozen pupils. The population high-water mark was reached in 1914 when Blanconia had 200 residents. The Great Depression hit the area hard and the population was estimated at a mere 25 people through the 1930s. By the late 1960s it was down to only 15 but has since doubled to the present (2000) 30.


A Visit to Blanconia
Photographer's Note:
Located on FM2441 near the intersection on Hwy 202 and in the far eastern part of Bee County near the Goliad & Refugio County lines. Located about 20 miles south of Goliad, about 9 miles NW of Refugio, 19 miles east of Beeville, and just down the road from the community of Sarco. - Will Beauchamp, October, 2008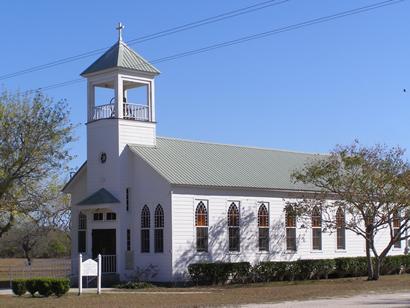 Texas Escapes, in its purpose to preserve historic, endangered and vanishing Texas, asks that anyone wishing to share their local history and vintage/historic photos, please contact us.
Custom Search
Book Hotel Here - Expedia Affiliate Network