---
---
---
CARRIZO SPRINGS, TEXAS
Dimmit County Seat, South Texas

28°31'36"N 99°51'45"W (28.526699, -99.862423)
US Highway 83
State Hwy 85 & FM 2644
50 miles S of Uvalde
44 miles SE of Eagle Pass
45 miles SW of Dilley
8 miles NW of Asherton
82 miles NW of Laredo
45 miles N of the Mexico border
Population: 5,800 Est. (2016)
5,368 (2010) 5,655 (2000) 5,745 (1990)
Carrizo Springs 1940s Street scene
Postcard courtesy www.rootsweb.com/ %7Etxpstcrd/
History in a Pecan Shell
The names: Phillip Dimitt had received the original grant of land as a naturalized Mexican citizen. He became the honoree for the county name - although the legislature misspelled Dimitt. People have grown fond of the misspelling over the years and so it has been kept.

Carrizo is Spanish for reeds.

Carrizo Springs is the oldest town in Dimmit County. The name comes from the local springs (and the reeds) and the settlement began around 1865. Families from Atascosa County moved into the area that year and they were joined the following year with a group from Goliad.

Dimmit County was organized in 1880 and Carrizo Springs was designated the county seat.

In 1880 early settler Levi English donated land for the town including schools, churches, and a courthouse.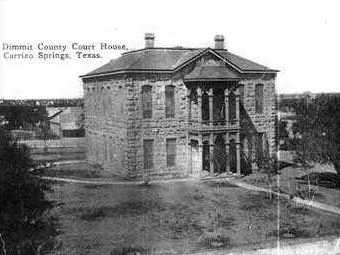 In 1884 the Dimmit County courthouse was finished and the Carrizo Springs Javelin was first published.

The population was a healthy 500 persons in 1885.

In 1900 artesian water was used to irrigate crops and new settlers arrived. In 1904 thirty wells were irrigating 1,000 acres of cropland.

In 1910 the town incorporated when the San Antonio, Uvalde and Gulf Railroad came to town.

The town had 1,200 people by 1915, and the town was electrified the next year. The 20s began with a drought, but later in the decade they caught up with the rest of the nation's prosperity. Streets were paved and the courthouse was remodeled.

By 1928 the population had reached 2,500.

Carrizo Springs' growth kept it the dominant city in Dimmit County and it had the only newspaper and only radio station in the county in 1984.

In 1988 the population was 7,553.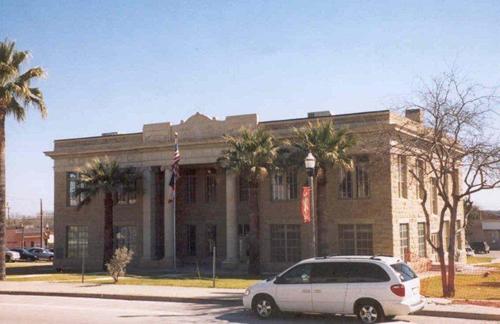 Carrizo Springs Chronicles
The Vidalia Onion
"Toombs County, Georgia is acknowledged to be the birthplace of the Vidallia Onion. Georgia had been having a problem with weeds that were growing faster than the locally planted onion sets. Texas transplants, it was hoped, would give the farmers a much-needed head start and so Texas Granex onions from Carrizo Springs were shipped there in 1952. ..." more


Henigan Water by Mike Cox ("Texas Tales"column)
"...Word of the amazing restorative qualities of the water spread faster than the contents of a spilled bucket. The Javelin said the people of Carrizo Springs got so healthy that the local doctors practically fell into poverty...."


South Texas Justice by Dianne West Short
Dimmit County Chamber of Commerce
310 West Nopal / P. O. Box 699
Carrizo Springs, TX 78834-6699
(830) 876-5205
http://www.dimmitcountytx.com/
---
Texas Escapes, in its purpose to preserve historic, endangered and vanishing Texas, asks that anyone wishing to share their local history and vintage/historic photos, please contact us.
---