Downtown Dilley. TE Photo
History in a Pecan Shell
With all of the strange place names in Texas, perhaps this is the only town to be named after the first man to step off a train. The first man in this case was George M. Dilley of Palestine, Texas. Maybe it was the first rich and influential man to step off the train, for George was the president of Dilley Foundries - the firm that made the rails for the International and Great Northern Railroad, or at least the portion that went to Laredo. If the legend is true, then there are many far worse names that Dilley could've taken. Darlington was Dilley's working title when George showed up. It's not known if a Mr. Darlington stepped off an earlier train.

Before the railroad, stray longhorns were driven to Kansas up the Chisholm trail, and this provided an income for the few residents in the area. Later, irrigation provided a way to produce produce. They referred to this as truck farming to avoid sentences like the last one.

Our source states that in the 1920s tourists would ride the train from San Antonio to "enjoy the winter sunshine." Today we're not impressed with being 60 miles closer to the equator, but evidently they were in the 20s.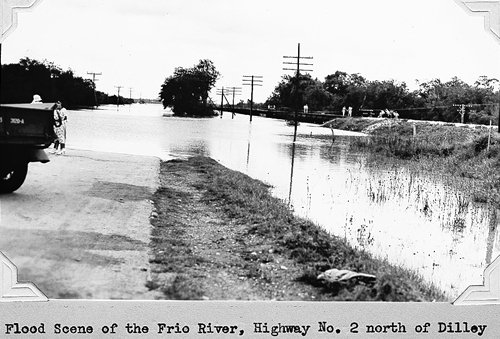 1935 Flood scene of the Frio River north of Dilley, Texas
Dilley Today
Dilley has fewer citrus trees and more production of watermelons and peanuts. An oil boom occurred in the 1970s/ 80s. A large watermelon in the city park adds Dilley to the roster of towns that have larger-than-life animals, vegetables and minerals on their squares (Floresville, Seguin, Hidalgo, Ft. Stockton et. al.).

Book Your Hotel Here & Save:
Dilley Hotels
Dilley Attractions
The lobby of the Dilley State Bank has a gallery of Texas landscapes in oil.

Dilley Tourist Information
Chamber of Commerce: Miller and Main Streets - 830-965-1742

Book Your Hotel Here & Save:
Dilley Hotels
Dilley, Texas Forum
Subject: Enjoyed Dilley, Texas website
I had to locate Dilley in association with my job duties and was very impressed with your Dilley, Texas website. I look forward to visiting with my family someday to say we've been to Dilley. Thanks for the smiles this morning. - Renee Zeller, Katy, TX, September 29, 2006


© John Troesser
Our source for Dilley Information was Little Towns of Texas, Jayroe Graphics, Jacksonville, Texas, 1981