---
Maverick County Courthouse
Photo coutesy Terry Jeanson, October, 2005
The Present Maverick County Courthouse
Eagle Pass, Texas
Date - 1979
Architect - Barton D. Riley & Associates
Style - Modern
Material - Brick

The current Maverick County courthouse is north of the 1885 building on Quarry St.
---
The 1885 Maverick County Courthouse
Photo coutesy Terry Jeanson, October, 2005
Date - 1885
Architect - Wahrenberger & Beckman
Style - Romanesque Revival
Material - Brick and stone
National Register Property

The 1885 courthouse is faintly reminiscent of the Presidio County Courthouse in Marfa.

Photographers Note:
The exterior of the 1885 Maverick County courthouse was restored and the building was rededicated on October 13, 2005. The interior restoration was completed shortly thereafter. - Terry Jeanson
The former Maverick County Courthouse (1885) as it appeared in 1939
Photo courtesy TXDoT
Historical Marker:
Maverick County Courthouse
A landmark of the Texas-Mexico border area. Built 1884-85, during term of county Judge Thomas Lamb, on site chosen by citizens' committee, who donated $800 toward purchase of land from R.E. Moffit. Architects: Wahrenberger and Beckman, San Antonio. Contractor: A local builder, William Hausser (1847-1919). Courthouse and a jail were erected at total cost of $20,489.

This was site of celebrated Dick Duncan murder trial, 1889. Duncan, accused of killing four members of a San Saba family he was escorting to Mexico, was convicted on evidence gathered by Sheriff W.N. Cooke and Texas Rangers Ira Aten and John R. Hughes. He was sentenced to death by district Judge Winchester Kelso. Duncan appealed to state and federal courts and gained national notoriety, but was hanged in the county jail on September 18, 1891, in the only capital execution ever carried out by Maverick County.

Early jail was replaced in 1949. A fine example of Victorian design, with crenelation that suggests a fortress, the courthouse is a border structure with great architectural significance. The clock tower still holds its original E. Howard works and bell.

Marker dedicated in September 1971 to commemorate centennial of the organization of Maverick County.

Recorded Texas Historic Landmark - 1971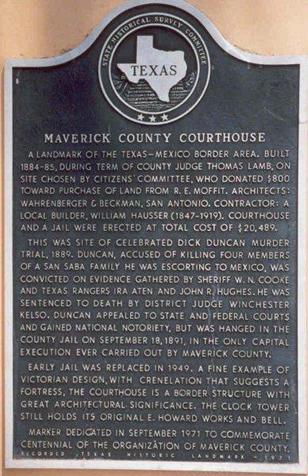 Maverick County Courthouse Historical Marker
Photo coutesy Terry Jeanson, October, 2005
Maverick County Courthouse west entrance
Photo coutesy Terry Jeanson, October, 2005
The restored courthouse clock tower
Photo coutesy Terry Jeanson, October, 2005
The courthouse's clock tower.
Even though restored at one time,
it does not work now.
Photo coutesy Terry Jeanson, December 2012
Courthouse interior
At the east entrance looking west
Photo coutesy Terry Jeanson, December 2012
Maverick County Courthouse district courtroom
Photo coutesy Terry Jeanson, December 2012
---
Historic Photo of Maverick County Courthouse and Jail
Courtesy Texas State Library and Archives
This photo of the the Maverick County Courthouse and Jail illustrates a common story in Texas. Often the courthouse and jail were built at the same time and often they were the first buildings on a desolate landscape. Similar photos exist for El Paso and Marfa - where the buildings appear to be on the surface of the moon.
---
---