---
---
---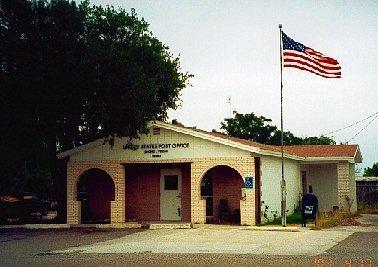 History in a Pecan Shell

Its site is within Luciano Chapa's 1832 Mexican land grant, called La Encantada y Encina del Pozo ("Enchanted Place and Live Oak in a Hole"), a name reportedly derived from a large live oak at the site, around which a hole gradually developed as wind erosion and animals seeking the oak's shade wore down the surrounding land. The Encino community was established at the site in the early 1900s as a roundup point for cattle raised by Mexican cattlemen. The Texas and New Orleans Railroad was completed through Encino in 1904, and a post office was established there in 1914.

The community's population in 1925 was fifty, and it remained at that level until 1939, when a population of 100 was reported. The population of Encino was estimated at 200 by 1941, but it dropped to 125 by 1945. In 1948 Encino had three schools, a church, and several dwellings. In 1970 the community's population was 110, and in 1976 it had eleven businesses. In 1982 Encino had a school, a church, three businesses, and several dwellings. During the early 1990s it was a dispersed community with nine businesses and 110 inhabitants
---
Historical Marker (from Encino, 281 business south one mile):
El Encino del Poso (The Oak in the Hole):
In this vicinity once stood a magnificent live oak tree that was an early landmark on the South Texas Plains for many years. Noted for its size and its wide canopy, it was located in a large hollow created by livestock that gathered beneath its branches and by winds that eroded the exposed soil. El Encino del Poso was a landmark for early trails and land grants. It also served as the location of a stagecoach station and as the basis for naming Encino (1 mi. N). The tree died in the 1890s, before the formation of Brooks County, the victim of an extended drought.
1986
---
Highway 281 Bus. to Encino
Photo courtesy Gerald Massey, October 2010
---
Texas Escapes, in its purpose to preserve historic, endangered and vanishing Texas, asks that anyone wishing to share their local history and vintage/historic photos, please contact us.
---