SWINNEY SWITCH, TEXAS
AKA Swinney, Texas
Texas Ghost Town
Live Oak County, South Texas
Where FM 534 and FM 3024 intersect
Two tenths of a Mile W of Hwy 37
12 Miles SE of George West
Population: Unknown
Swinney Switch Church
November 2005 photo courtesy Robin Sellman
History in a Pecan Shell

Sidney J. Swinney is the town's namesake. In 1917 Mr. Swinney opened a store on his 300 acres of land and gave the community the railroad designation of "switch" thinking that it would be a cinch to attract a railroad and / or settlers. Mr. Swinney also organized a brush arbor church which later built a small chapel. The railroads took other routes, leaving the fledgling community under-developed and unattached to the rest of the world. In the 1930s only the church and two businesses formed the town but the people residing in the area retained an active volunteer fire department.
---
A MAN'S VISION…SWINNEY SWITCH!
by Robin Sellman
I've procrastinated a bit, but I have always wanted to tell what I know of the story of Swinney Switch.

My great-grandfather was Sidney Johnson Swinney, the owner of the Swinney Switch General Store. He was born May 22, 1875 and died January 3, 1948 at the age of 72. He was married to Julia Reynolds for over 50 years.

"Papa" Swinney, originally a farmer of 117 acres, built the store around 1925-1926. The original store was a small frame building, but about a year later, he built a new building out of rock. Although other businesses have claimed to be the "original" Swinney Switch store, the small white building at the bottom of the hill was the original establishment.
The original Swinney Switch Store
November 2005 photo courtesy Robin Sellman
Julia and Sidney Swinney, Store Proprietors
Vintage photo courtesy Robin Sellman
Located on the west side of the intersection of FM 3024 (old Highway 9) and FM 534, the store was also the gathering place for those wanting to play a good game of dominoes with Swinney. It was common for customers to wait on themselves in the store if he was in the middle of a game. He would remind them to write their purchases down in the log. He trusted everyone.

The store was a general store where customers could buy staples, produce, crackers and canned goods out of the shelves, and ice-cold soda pops, and tobacco. He also sold bologna & cheese out of his coke box. He would sell it by the chunks because he did not own a meat slicer. There was no alcohol sold in Papa's store!

Outside, Swinney sold gasoline. In the early years, the oil company would not let the store have a pump, so the gas was pumped from two 50-gallon barrels. Eventually, he was able to modernize by installing two gas pumps.

Joyce Swinney Lemma of Corpus Christi, granddaughter of Sid and Julia Swinney, remembers the summers at the store fondly. She recalled, "I pumped many a gallon of gas when I would be helping him in the summers.  Papa would be playing dominoes and asked me to wait on the customers.  This was when gasoline was rationed, and we had to collect ration stamps for each gallon of gas.  Once, I forgot to collect the stamps and had to chase the customer to the intersection to get them.  When I told Papa, he scolded me and told me never to do that again.  Now, I see how dangerous it was."

Mrs. Lemma also recalled her Papa selling sweets, a favorite of any child. "He also had a glassed-in candy counter, and he would let me select one piece each day.  Nannie (Julia Swinney) would wake from her nap around 4:00 p.m., and we had a cold Dr. Pepper every day.  Those are some nice memories."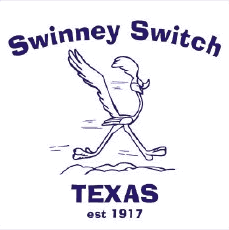 Swinney Switch Logo
Courtesy Robin Sellman
Sid Swinney had great hopes of luring the railroad through the area and to "switch" at his store because he believed that it would be good for business. He had visions of helping build a town. He is the one that named the settlement "Swinney Switch" in hopes of getting the attention of Missouri-Pacific Railroad. That dream was never realized, and the railroad went by Dinero instead. He was forced to close the store in 1943 because of failing health.

In addition to the store, Swinney desperately wanted to build a church to further the Kingdom of God. He was a deeply religious man. After meeting under a brush arbor for quite some time, Swinney donated an acre land that the church was eventually built on. The Baptist church was organized in 1932. It was pastored through most of its history by Reverend Carroll Jones. The University of Corpus Christi supplied "fill in" pastors in the later years of the church. Rev. Jones eventually presided over the funeral service of Papa Swinney in 1948.

In his eulogy, Reverend Jones gave an accounting of Swinney's life and told of his persistence in having the church built. He recounted the sacrifices Papa Swinney made to build and pay for the church and how many lives were changed because of the influence of Sid J. Swinney. During the funeral service, Rev. Jones quoted Swinney as saying "I would give anything in this world if I could just live a better life." He said, "I love God, but sometimes I am just not able to show Him how much I love Him."

The church and property reverted back to Swinney's estate when the church disbanded somewhere around 1968. It was later donated to the South Texas Children's Home, Mineral, Texas.

Copyright Robin Sellman