Glasscock County Courthouse
Photo courtesy Barclay Gibson, December 2009
Oil Painting of old courthouse/jail and current Glasscock County courthouse displayed in the lobby of the current courthouse. Photo courtesy Terry Jeanson, June 2006
Glasscock County Courthouse and Jail historical marker on the courthouse ground. Photo courtesy Barclay Gibson, December 2009
Historical Marker Text
Glasscock County Courthouse and Jail
On May 9, 1893, a little over one month from the date of Glasscock County's formal organization, the first county commissioner's court issued bonds to erect a combination courthouse/jail building. L. T. Noyes of Houston, with the assistance of plasterer William T. Lovell, completed the structure on February 12, 1894. Originally, the ground floor of the building was used for court sessions and the second floor used as the jail. The 2-story stone building, later used only as a jail, features subtle Classical influences, including corner pilasters and a tall corbelled cornice.

County bonds issued through the First State Bank of Garden City in 1909 were used to employ Mutual Construction Company, Inc. of Louisville, Kentucky, and architects Edward C. Hasford & Co., of Dallas, to build a new courthouse. The 2 1/2 story Classical Revival structure, constructed of 3-foot thick native stone from a local ranch owned by Steve Calverley, was completed on August 27, 1910. It features colossal Doric columns supporting its open pediment and a horizontal belt course which follows its 2nd floor window sills.

The current Glasscock County Courthouse has been in continuous use since 1910. The original courthouse/jail structure was replaced by a new jail in 1980.

Recorded Texas Historic Landmarks - 1962
Glasscock County historical marker on the courthouse lawn
Photo courtesy Barclay Gibson, December 2009
Historical Marker Text
Glasscock County
Created in 1887. Organized 1893, with Garden City county seat. Named for George W. Glasscock (1810-68), flatboating partner of Abraham Lincoln in Illinois. Came to Texas 1834 and fought 1835-36 in the War for Independence from Mexico. Built first Central Texas flour mill, Williamson County. Georgetown was named for him. Was in Texas Legislature, 1864- 68.

Of the 254 Texas counties, 42 bear Indian, French or Spanish names. 10 honor such colonizers as Stephen F. Austin, "Father of Texas". 12 were named for Washington, Clay, and other American patriots. 96 were named for men like Glasscock who fought in the Texas War for Independence (15 dying at the Alamo), signed the Declaration of Independence, or served as statesmen in the Republic of Texas.

23 have the names of frontiersmen and pioneers. 11 honor American statesmen who worked for the annexation of Texas; 10, leaders in Texas since statehood, including jurists, ministers, educators, historians, statesmen; and 36, men prominent in the Confederacy during the Civil War.

Midland and 8 others have geographical names. San Jacinto and Val Verde were named for battles. Live Oak and Orange for trees, and Mason for a Fort.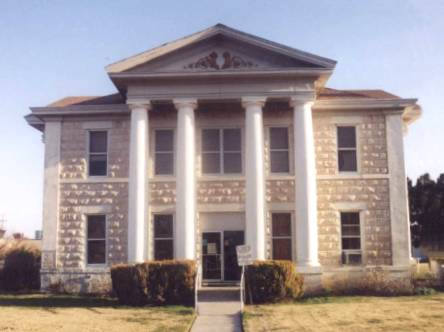 The 1909 Glasscock County Courthouse today
Photo courtesy Barclay Gibson, March 2002
Another view of the Glasscock County Courthouse
Photo courtesy Barclay Gibson, March 2002
The Glasscock County Courthouse as it appeared in 1939
Photo courtesy TXDoT
The (1894) County Jail also sits on the courthouse square. This building was the courthouse before the present one was built.