The 1894 Caldwell County Courthouse
Photo courtesy Terry Jeanson, 2008
The Present Caldwell County Courthouse
- Lockhart, Texas
Date of completion - 1894
Architect - Henry E. M. Guidon
Architectural Firm: Giles and Guidon
Contractor: Martin, Byrne & Johnston
Style - Second Empire
Material - Muldoon blue sandstone, with Pecos red sandstone trim
Recorded Texas Historic Landmark

See Historical Marker
The Texas Historical Commission description states: "Most attribute its design to San Antonio architect Alfred Giles. However, it is more likely that Henri E. M. Guindon [sic] is the architect."

Another entry on the THC website states: "plans were sold to Caldwell County during [a] brief period when Guidon did not work with Giles, same plans subsequently sold to Goliad shortly after Guidon rejoined Giles practice, Giles later ads claimed both Caldwell and Goliad as his."
Caldwell County Courthouse as it appeared in 1939
Photo courtesy TXDoT
Caldwell County Courthouse as it appeared in 1905 Courtesy of Texas Historic Commission
The three story building is constructed mainly from "Muldoon Blue" sandstone quarried in Fayette County. The popular stone was used in many other courthouses and churches across Texas.

Until its recent total restoration the building only went through minor repairs and improvements. In 1969 the building received air conditioning and had an elevator installed. In 1977 the district courtroom was converted to office space, with the then-popular plastic paneling and a dropped ceiling. The following year downspouts were replaced, windows and doors were repaired and the stonework was repointed.

For many years the color scheme was "cream and green." The nearby H.E.B. grocery matched the colors at the request of Lockhart's City Council. The original colors were brought back during the recent restoration.
The courthouse in cream and green
TE photo 2003
Historical Marker Text
Caldwell County Courthouse
The first Caldwell County Courthouse was erected on this site in 1848, when the county was organized and named for Mathew Caldwell, a Texas Ranger and signer of the Texas Declaration of Independence. It was replaced in 1858 by a 2-story limestone edifice, measuring 65 feet by 40 feet, with six offices and two rooms for storing records. By 1893, that building had become too small for a growing county.

In April 1893, Judge George W. Kyser and commissioners J. H. Jolley, g. A. McGee, C. R. Smith, and R. A. Tiller approved plans for the present courthouse. The cornerstone was laid by Lockhart Lodge No. 690, A. F. & A. M., on August 15, 1893. Contractors Martin, Byrne, and Johnston completed the building on March 19, 1894.

The 3-story structure is built of sandstone with red sandstone trim. It displays the fine workmanship and elaborate detail common to architecture of the period. the mansard roof is characteristic of the second empire style that was often used for public buildings. The courthouse is topped by a central clock tower, with additional towers at each corner and flanking the north and south entrances. When it was built, the structure was equipped with the latest conveniences of the day, including electricity.

Recorded Texas Historic Landmark - 1976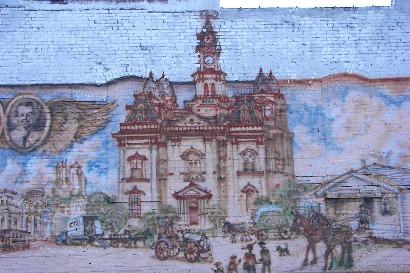 Mural on the Vogel Furniture building
a couple of blocks W of the courthouse
Photo courtesy Terry Jeanson, 2008
More Texas Murals
Caldwell County Courthouse and courthouse square
Photo courtesy of Paul Turner
Metal capitals on the couthouse's east entrance
TE photo 2003
Caldwell County Courthouse in scaffolding
Photo courtesy Terry Jeanson, June 2013
Photographer's Update:
Courthouse in Lockhart
"Only ten years after restoration, the roof needs major repair. They are repainting all the cupolas, repairing rotted wood around the windows and removing the mold and mildew stains. They also discovered that the tower is twisted and tilting slightly to the east so they want to repair that before the building becomes known as the "Leaning Tower of Lockhart." Here is a photo of it in scaffolding that I took today." - Terry Jeanson, June 15, 2013
Caldwell County centennial marker
on SW corner of courthouse grounds
Photo courtesy Terry Jeanson, 2008
Centennial Marker Text
CALDWELL COUNTY
A part of DeWitt's Colony 1825 - 1836.
A part of Gonzales County to 1848.
First settlements were on Plum Creek and the San Marcos River.
Created March 6, 1848 Organized August 7, 1848
Named in honor of Mathew Caldwell, "Old Paint"
1798 - 1842
Soldier-Statesman.
Signer of the Texas Declaration of Independence
Commander of the Texas Rangers
Lockhart
, the county seat
Custom Search