Mozelle consists of The Old High School and the buildings connected with it. There are a few residences close by, but no sign of a town center. ("Mozelle town as you refer to it, actually never existed as such." See Forum )

We knew of Mozelle from a young woman we met in Coleman's Owl Pharmacy. She had attended school there, so it couldn't have been closed that long ago.

It's a lonesome place, but the isolation is pleasant. It would be relaxing to have a picnic here, although we're sure it would paralyze a victim of agoraphobia. The Handbook of Texas has no entry for Mozelle.
© John Troesser

Mozelle School 1945-1946 Yearbook - Old photos
Mozelle School Demolished - Photos today
Mozelle Texas Forum - Mozelle School, sports, and deaths in Mozelle
The Mozelle High School Storm Cellar
While storm cellars (or shelters) are fairly common in west Texas, this is the first one we saw for a whole school.
TE Photo, 2000
---
Mozelle School 1945-1946 Yearbook

"I love your website ! I have contacted you before about the history of Independence, Washington County, Texas.

Today I purchased a 1945-1946 old yearbook / annual for the Mozelle School in Coleman County, Texas . In checking your website I was sad to learn the building is being demolished . Thought you might preserve what it looked like at its time of glory!" - John Gilmartin, Crockett and Independence Texas, April 11, 2011
Mozelle High School Building
Photo courtesy John Gilmartin
Mozelle School Home Economics Building
Photo courtesy John Gilmartin
Mozelle School Band House
Photo courtesy John Gilmartin
---
Mozelle School Demolished

Editor's Note:
In a remote corner of Coleman County the owner of the former Mozelle High School has taken on the formidable task of demolishing the building. Although there never was a proper town of Mozelle (just the school), the school was as special to the Mozelle alumni as any other school was to its former students – probably more so.

Owners of private property have the right to do whatever they wish with their property and if the sizeable town of Denison couldn't save its beautiful former high school, there wasn't a thread of hope for the ugly duckling that was Mozelle HS.

Our inclusion of the photos is just to point out that vintage schools in Texas are disappearing from the landscape at an alarming rate and to ask the owner of the property if he can at least keep the memorial that was placed there by the school students or donate it to the county historical society so it might be saved.

Thanks to Misty Johnson for sending the photos on October 10, 2007. Her letter follows:
"I attended school in Mozelle Texas and had recently gone back to visit. I had been there a few years ago and my husband and I were able to walk up the building and look in the windows. This time I was shocked to see it's being torn down. Now the Mozelle as we knew it will be all but gone."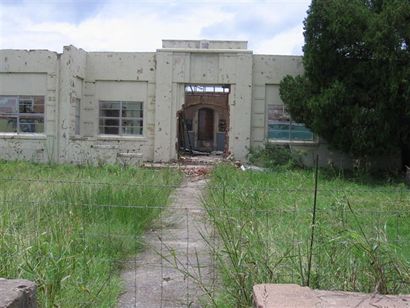 Mozelle School main entrance
June 2007 Photo courtesy Misty Johnson
Mozelle School entrance close-up
June 2007 Photo courtesy Misty Johnson
Mozelle School former gymnasium
June 2007 Photo courtesy Misty Johnson
Book Hotels > Coleman Hotels | More Hotels
Mozelle Texas Forum
Subject: Mozelle School, Sports...
As one of your contributors noted, Mozelle was never really a town although it did have a store at one point. It was primarily a school, all 12 grades. There is a history that was published in the Eighties, I believe.

My father, Sherwood Downey, graduated from the high school in the Forties, and my two brothers and I did as well in the Seventies. My father also was the vocational agricultural teacher there from 1968 until his retirement in 1983 (I think).

We lived in a house on the school grounds; I walked to school every day, but it was only a few hundred feet: no snow uphill, ever. The photo of the gym on your website brought back memories especially: I worked one summer for the school when I was 17, and one of our jobs was to spraypaint the ceiling of the gym. We had this tall scaffolding and a huge spray rig, and you'd climb up to the top in goggles and a mask and spray for as long as you could stand the heat, about 15 minutes at 115 degrees. What a tough way to make $1.25 a hour.

Mozelle played six-man football, and we had some decent teams. My all-time favorite football memory was when we won district my senior year in 1972. We played O'Brien in bi-district, and we were trailing at half-time. We did an onside kick, recovered it and scored and proceeded to do it again and again. We ended up winning something like 92-56. We would have broken 100 since I intercepted a pass and returned it for a touchdown in the 4th quarter, but there was a penalty. Funny what you remember decades later. I also was the extra-point kicker. There weren't many decent kickers in six-man, so extra points counted two points. I kicked nine that night; I was a soccer-style kicker despite the fact I didn't play soccer, and neither did anyone else then.

Funny that I ended up writing about sports, but that's the main advantage of a small school - you can play everything. I played football, basketball and golf, in addition to running track.

Jaime Reyes, who commented in 2003, was two years ahead of me in graduating from Mozelle. I haven't thought of him in forty years. I didn't know that about the WPA, but I did remember about the name.

Judging from the photos on the website, memories are about all that will be left of the school pretty soon. Thanks for saving what you can. - Mike L. Downey, December 17, 2011


Subject: Mozelle never existed as a town, and Early Deaths in Mozelle
Dear TE, As far as I know, Mozelle town as you refer to it, actually never existed as such. After attending Los Creek grade school, (five miles south of Coleman) through the second grade, from 1947 to 1948, Los Creek school was closed and students were transferred to other schools, some to Coleman, and some to Mozelle, depending on where in the county of Coleman you lived. I attended grade school at Mozelle, from the third grade thru the ninth grade, from 1949 to 1956.

As I said, Mozelle as a town never existed, I remember a small store across the road to the south of the main building, a cafeteria, and some other shops, plus another building where we had agricultural class, to the west of the school, or the rear. To the northwest was another small building, that grade schoolers went to, before attending junior high. This was removed a few years later, I think. It's hard to remember. Farther out to the north west was the football field, and due north of the school were a couple of small houses for teachers to reside in. Just outside the north side of the school, or the gym, was an area that was where the flag pole was at, and was used for softball, for grade schoolers. Farther North past the teachers houses, was another area, where we played baseball, and it was hard ball. Mozelle as a township never happened, it was just a country school, built on donated land, and named after Mozelle Monsey, daughter of G. Monsey. Mozelle graduated 1957, if I ever saw her, I don't remember her although I was there.

One point of interest, is the granite marker, near the south side door and rear cement steps of the school, if it is still there. When I first started there in grade school, there was one name on it. It was Jim ??? somebody, but later I remember three more names that were added.
1. Jim ??????
2. Rex Winslett
3. Lorena June Allen
4. Jennean Jones
All of these were tragic deaths, I don't remember the dates of their deaths, but do remember how they died. Jim ????, was killed in a lightning strike. Rex Winslett was electrocuted in a water tank, changing a pump for his father. Lorena June Allen died in childbirth. Jenean Jones died when a basketball goal that had been laid down, in front of the gym, turned over and landed on her face, near the bridge of her nose. I was in class when that happened. I really hope the slate remained with just four names.

The person that wrote the first article is right, it is a lonely place, nothing here at all to attract attention, but for all of that I still remember some great times there, though the names are growing dim in my memory, the faces still remain, just the same as when I was a student there. If anyone has them, my picture will be in the year books from 1950 to 1956. - Regards, Thomas W. Dickinson, Bangkok, Thailand, September 17, 2006

P.S., a word on Los Creek school - it remained standing for a few years after it was closed, then was torn down, It was a red brick schoolhouse, with a cafeteria, two large class rooms, a study hall, and of all things a stage. It had two outdoor restrooms, one for boys and one for girls. This was this first time I had ever seen this and of course not knowing the difference, I immediately went into the wrong rest room for the girls, I got a spanking the first day of school, and mostly had no idea why.

Anyway, right across a county road, there was the Los Creek church house. It was also where I was Baptized, and of course no longer exists, one thing though, it did have a pumping oil well, in the south side of the parking area. - TWD


Mozelle School
So happy to see your site! I graduated from Mozelle High School in 1961. It was a great place to go to school. We went all through school with almost the same classmates, so we were all good friends and many of us relatives. We had great teachers and small classes, so I do believe that we had a good education. Ed Burnan, Virginia Jameson, Audrey Holt, Miss Essie (McGregor). Patsy Lee, Eugenia Pittard were special teachers that I remember. There were eight students that graduated in 1961. All but one started 1st grade together with Aubrey Holt as teacher. With any activity, everyone had to be involved, or there would not be enough. Everybody was in almost everything. We went on long cold bus rides to other small schools to play basketball or football. We had a 6 man football team. We didn't have a band, so we would play a record over the intercom and the girls would have a dance routine during half-time. Purple and White--dynamite - Casey McClure, August 31, 2004


I graduated from Mozelle High School in 1970 having grown up in southern Coleman County since the mid-1950's. Mozelle was named for the oldest daughter of Gordon Monsey, who donated the land for the high school to be built on. I attended school with one of her sons and hence knew that bit of its history. The school building and gymnasium were built by the WPA (Work Projects Administration). - Jaime Reyes, P.E., Euless, Texas, February 03, 2003


I remember in the late sixties attending Sidney High School and playing against Mozelle High School in six man football. It's sad to see that Mozelle has joined the long list of Texas Ghost Towns. I remember visiting Sipe Springs many times as a kid.

As a Tex-patriate living now in the Washington DC area, I was happy to see your site on the web. It really brought back a lot of memories. Keep up the great work! - Deja C

Anyone with stories, photos or incidents of Mozelle's history is invited to share them with our readers. Please contact us.
Photo courtesy Mike Price
Texas Escapes, in its purpose to preserve historic, endangered and vanishing Texas, asks that anyone wishing to share their local history, stories, and vintage/historic photos of their town, please contact us.
Custom Search
Save on Hotels - Expedia Affiliate Network