Weimar Railroad Depot and Train - early 1900s
Photo courtesy texasoldphotos.com
Historical Marker (in front of Post Office on U.S. 90) Text
Town of Weimar
This land--once part of first Anglo-American colony in Texas--grew into a townsite in 1873 with coming of the Galveston, Harrisburg, & San Antonio rail line. D.W. Jackson donated half of land for town, which was named for Weimar, Germany. Post Office was established in 1873. Town incoporated 1875. By 1887 Weimar was enjoying a prosperous cotton economy, had many stores and 2 newspapers. Local opera house (150 yds.S), built about 1880, was one of the first between Houston and San Antonio. Present Economy is based on agriculture. Population is 2,050.
Although situated in Colorado County, this is a technicality that Weimaraners shrug off. They feel a closer kinship with Schulenburg than Columbus, and they know they're always welcome in Fayette County as long as they behave themselves.
A "Railroad" town, Weimar was originally named Jackson Station. Their railroad heritage is evident with the library occupying the old Depot and the library offices installed in an old Caboose. Sausage making and meat consumption occupy many residents, although they still have enough activities to fill a weekly newspaper, The Weimar Mercury.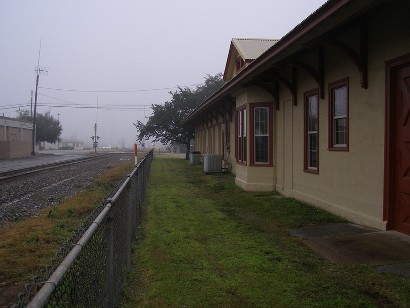 Historical Marker Text
Weimar Railroad Depot
Weimar was founded in 1873 when T. W. Peirce, president of the Galveston, Harrisburg & San Antonio Railroad, built a depot here on property of D. W. Jackson (1829-1904). Peirce and Jackson shared the profits from sale of town lots. Before the coming of the railroad, transportation had posed a major problem for this area. Named for a German town that Peirce admired, Weimar quickly became a leading trade center. The first depot was replaced in 1925 by the present structure. In 1972 the Southern Pacific Railroad donated the building for use as the Weimar Public Library.
Weimar Today
Breakfast, or at least coffee is an important ritual in Weimar and the menfolk occupy Bennie's Café while the womenfolk are self segregated down the block at Letica's Mexican restaurant. Leticias has a timeless (1940s) ambiance and some wonderful breakfast tacos. Post Office Street serves as the "main drag" and can be quite active mornings. The Post Office, however, can be found on Main Street, one block over.
The Weimar Heritage Museum which also contains a pharmaceutical museum, is open Wednesdays 2 pm to 4 pm and Saturdays 10 am to 4 pm.
The buildings are mostly brick and contain antique and gift shops, as well as stores vital to the town's everyday life. The most recent addition to Post Office Street is a saloon in the reclaimed theater.
Public School, Weimar Texas, early 1900s
Photo courtesy texasoldphotos.com
More Texas Schoolhouses
The water tower in Weimar
Photo courtesy Teri Brown
More Water Towers
Bird's-eye view of Weimar, 1912
Photo courtesy texasoldphotos.com
Nearby Destinations:
Weimar is a pleasant break from the Interstate, and offers a pleasant winding drive north to LaGrange, a mere 16 miles away. Schulenburg is a few miles west on US 90. Or go west 3 miles to Dubina on FM1383 to see the "painted church" and "Piano Bridge".
Weimar Personalities

Etta Moten Barnett
November 5th, 1901 - January - 2004
"Life does not owe me one thing."
While her birth in Weimar, Texas may have just been chance, it's her accomplishments after she left Weimar that deserve a closer look. When she died last year of cancer (in Chicago) at the age of 102, Etta Moten Barnett had had a rich and full life.. She is now remembered as an actress, singer, and philanthropist ... more
Weimar's mail carrier in the 1930s
(From Mike Cox's "Texas Tales")
A pet deer named Billy