Lasting Impressions
by Rick Vanderpool & Sami Simpson
First impressions might be important, but the ones that last are priceless… - A. Nonymous III

Once upon a time, when the river was still flowing, when there were mammoth, giant bison, camel, tortoise, dire wolf and sloth roaming the Llano Estacado, the river was the trail. As the bed of the North Fork of the Brazos River became sandhills, draws became the drainage system for the region. Trails were formed by these animals, traveling between the lakes on these draws, seeking water. The earliest inhabitants, the Clovis hunters, also needed water, as well as food. They followed the trails - hunting, along the way, all the animals that made them.

Through centuries of use by the ciiblores, commancheros, military, mail routes and cattle trails, the trails became a bit deeper with a wider impression on the land.
Once Upon A Time The River Was The Trail
Photo courtesy Rick Vanderpool, 2010
In the early twentieth century large ranches became farms. Soon others, mounted on horses, often accompanied by wagons pulled by oxen or mules, discovered these trails and used them for similar purposes – hunting, food and water – but also for exploration and eventually, settlement. And with the creation of towns, many of the trails became roads, while others, because windmills now supplied the water, fell into disuse.

As the broad plains and sandhills were parceled, fenced and cultivated, any trail that did not make a convenient road was simply plowed or scraped away, leaving only the faintest trace of all the traffic it once bore – a trace barely visible to anyone less resourceful and dedicated to locating them than Sami Simpson.

Please pardon me, dear reader, but I had to fast forward to today, April 8, 2010 – the day that, thanks to Sami's son's friendship with helicopter pilot extraordinaire, Wally Moyers, Sami, Darwin McBee and yours truly did take to the skies in Wally's lovely red chopper to find and photograph those traces of trails – two of them that Sami had painstakingly [with the help of GOOGLE Earth] marked on maps, also providing Wally with precise GPS coordinates.

So, there we were, on a clear, blue, and I would like to add, CRISP to the description of this special West Texas morning, since Wally had removed the door on my side to allow for better photographs, and to better enjoy the balmy temperatures in the 40's. But the infinite colors and textures of the landscape below made us forget the chill. We flew over birds, hawks, deer, coyote, antelope, cattle and horses; farms, feedlots, ruins, junk, alkali lakes and streams; roads, fences, fields and homes.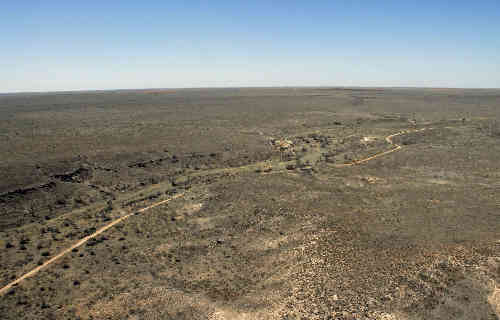 We were all equipped with headsets and microphones, but we didn't talk much, zipping along at 90 mph (ground speed), at an altitude of 700 feet, in Wally's chopper, looking for traces of a section of the Mackenize Trail traveled by Capt. Viele, August, 1875, starting at the Lamb and Hale County line, and a section of the Fort Sumner Trail from the New Mexico border in Bailey County, Texas, southeast, through Bailey, Cochran and Hockley Counties to Shallowater in Lubbock County. Wally was navigating and piloting, Sami was checking her maps and scanning the ground; Darwin was scanning the ground, and while I was scanning too, there was that missing door…
Ronald S. Mackenzie
Photo courtesy Wikipedia Commons
Roughly 200 photographs barely do justice to our amazing experience. It truly was one of those, "you had to be there" deals. Over lunch, Sami, Darwin and I agreed that the "poetry" of our experience would stay with us forever. Each of us could imagine the first hunters following the herds of bison, Mackenzie and his soldiers pursuing the Comanches and Kiowas who had left the Indian Reservation, as the settlers followed in waves, mostly passing through. We knew that while all those activities left the impressions we could now see only traces of, the land itself had left the most lasting impression on all who traveled it – back then, by foot, horseback or wagon, and even today, by helicopter.

© Rick Vanderpool
Texas Plains Journal, 6-26-10
1950s map showing Bailey, Cochran and Lamb Counties
Courtesy Texas General Land Office